Lai Mohammed Under Heat Over His Statement On Feeding Elzakzaky With N3.5M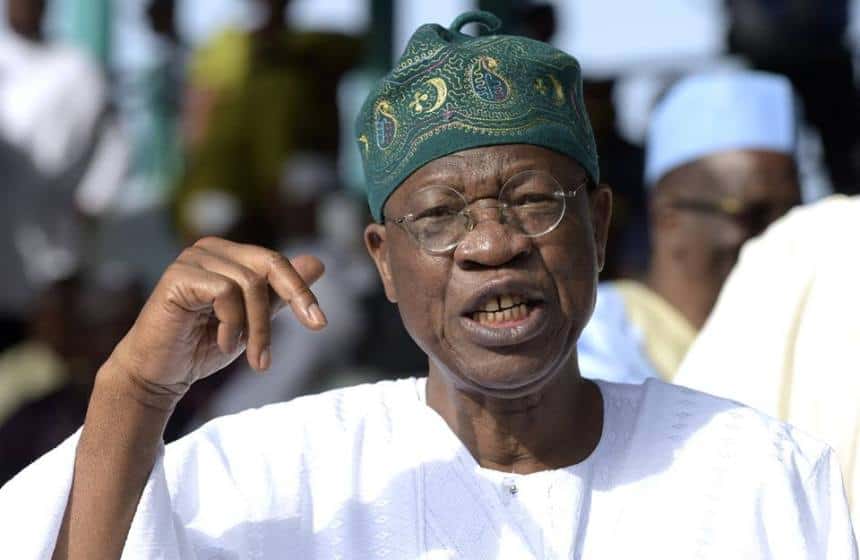 Read What Nigerians Are Saying About Lai Mohammed.
Minister for Information, Lai Mohammed is currently, under heat, over the recent statement he made about Federal government's expenses on Shiites Leader,  Ibrahim Elzakzaky.
In a video trending online, the minister asked not to be quoted before proceeding to say: "It costs the government about N3.5 million every month to feed him, Naija News reports.
"Honestly, don't quote me, but these are the facts.
"So please. We don't want to inflame passion. The issue is a very sensitive matter. But that is the situation. The Islamic Movement of Nigeria are a different kettle of fish." He said.
Naija News reports that the Federal government has seemingly been trending on controversial issues overtime, hence this time was just another occasion for Nigerians to express their criticism, all revolving round Lai's role in Nigeria's governance and for the President Muhammadu Buhari.
Aside from insults, they express disbelief and doubt over Federal government spokes man 's statement.
See Tweets below:
If someone that's in custody cost the FG 3.5m to feed, how much will it cost to feed those in Aso rock?

Little math here: if cost of feeding for one man is #3,500,000

Assume minimum wage is 30,000.

That's the salary of over 115,000 workers for a month.

Lai Mohammed o.

— Offiong Isyah (@OffiongSpeaks) November 8, 2018
I wish Lai Mohammed will always speak the truth whenever he speaks… https://t.co/gQIUcHjJMk

— Ibrahim Kudu Mohammed (@IbrahimKuduMoh1) November 8, 2018
Lai Mohammed is a fool and a disgrace to the present administration. The fact that he's still the government's spokesman speaks volumes.

— We are wakandans (@strongunsullied) November 8, 2018
When I saw "Lai Mohammed" trending I concluded baba has said something again.
Well… He never disappoints.

I'm of the opinion that the Min. Of Information should be careful of his choice of words.

How do you feed someone in a month spending over 3 million?
Na elephant?

— Offiong Isyah (@OffiongSpeaks) November 8, 2018
Lai Mohammed is a nothing but a gold digger looking for a favour from buhari. He does not speak as if he actually reasoned, before he speaks.

— Ugochukwu (@Ugochuk82534611) November 8, 2018
No liar has lived greater than Lai Mohammed. Even the devil catches cold in he'll when this guy speaks. The guy is a far greater liar than Messi, Ronaldo, Xavi, Iniesta, Kaka, Ronaldinho and Zindane are footballers combined.

— iThink #ClimateAction & #SustainableDevpt (@rolandi_teeji) November 8, 2018
Download Naija News App. Advertise with us. Send us enquiries and press releases.