Senate In Rowdy Session Over President Buhari's Social Intervention Programme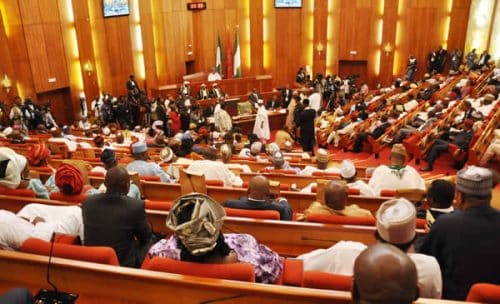 Senate plenary on Wednesday got rowdy when senators of the Peoples Democratic Party and the All Progressives Congress clashed over the social investment programmes of the federal government.
It all started when the Minority Leader, Senator Biodun Olujimi alleged that the President Muhammadu Buhari-led administration's Social Intervention Programme has being politicised.
Mrs Olujimi in her speech on the floor of the senate, alleged that beneficiaries of the programme were being asked to provide details of their Permanent Voter Card in the application form.
She further alleged that 'I Stand with Buhari' was written on the form, adding that those without PVCs were been denied the forms.
An attempt by Senate Leader, Ahmad Lawan who stood up to reply Olujimi's assertion, met with stiff resistance from PDP lawmakers including Senator Dino Melaye as they all raised their voices to contribute to the debate.
This dragged on for some minutes as attempts by Lawan to speak was intermittently interrupted by PDP senators.
"I urge that an Ad-hoc Committee be set up to look into this issue."- Senator Biodun Olujimi.

— The Nigerian Senate (@NGRSenate) November 7, 2018
This resulted in the upper chamber becoming noisy as the APC and PDP senators exchanged words across the divide.
After normalcy returned, the senators resolved that the the social intervention programme of the Buhari administration as well as the SURE-P policy of the Jonathan administration under PDP be probed.