See Why Kaduna Traders Rejected El-Rufai's Offer To Rebuild Their Burnt Shops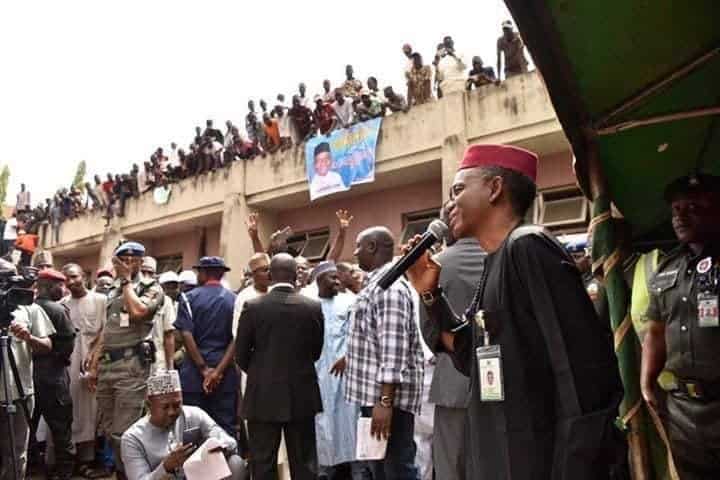 Popularity Test: Kaduna Traders Boo El-Rufai
There was a drama at the Central Market (Abubakar Gumi) in Kaduna State, yesterday as traders in the market openly rejected the offer of Governor Nasir El-Rufai to rebuild their dilapidated shops.
Elrufai went to market yesterday to test his popularity as usual promised to build the market and offered them 10k trader Moni. Guess what? The people refused and told him 1 Term is all he will get.

Elrufai only popular on Twitter
Kadalites are WOKE , we don't fall for crumps pic.twitter.com/PbsQFJxJaL

— @KadunaSoteriaProject (KSP) (@KadunaSoteriaP) November 7, 2018
Naija News learnt that the Governor made an unscheduled visit to the market on Tuesday after he was told that Shehu Sani, the senator representing Kaduna Central Senatorial District, had visited the market earlier on Monday.
Earlier today, Distinguished Senator @ShehuSani with traders on the Polytechnic Road, along Kasuwan Barchi T/wada Kaduna. @prp_ng pic.twitter.com/aePbIS68NN

— Yusha' S. Abdul ???? (@yusha_abdul) November 5, 2018
The Governor was said to have quickly arranged for a visit to the same market. The traders interjected the Governor while addressing the crowd and booed him, shouting: 'We Don't Want, We Don't Want, You Can Only Do One Term'.
Sani had reportedly visited the market on Monday at 11am as part of his street parliament initiative to engage the people of his constituency and interact freely with them.
He was warmly received in the market, as people kept praising him for identifying with the course of the common man in the discharge of his national activities in the Senate.
Sani recently donated the sum of N1million to the victims of fire incident at the railway station market in the state. The senator also granted two-year scholarship to the children of the traders who died in the fire incident.
El-Rufai had recently, in Abuja, dared Sani to test his popularity by going to the central market, and see if he would leave unhurt. He had also accused the lawmaker of working against the party, saying the people were not happy with him.
Last week, el-Rufai announced the Executive Secretary, Kaduna State Primary Health Care Agency, Dr. Hadiza Abubakar Balarabe, as his running mate in the 2019 general elections, a decision that has been widely condemned by the Christian community in the state.
Source: Naija News