Nigeria Can Afford N30000 Minimum Wage – Umeh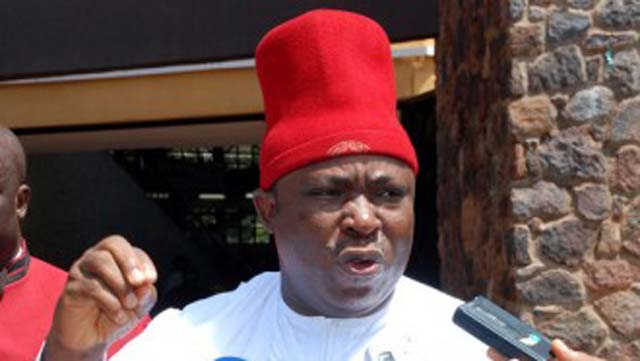 Chief Victor Umeh, representing Anambra Central Senatorial District has asked both federal and state governments to accept and implement the N30, 000 minimum wage demanded by workers.
Umeh said this to reporters in Awka, while maintaining that the resources of the country can conveniently effect it.
He advised the various governments to cut areas of waste to be able to pay the new wage.
According to him, the new minimum wage would not even solve much of the problem of an average family man or woman, insisting that what the Nigerian workers had was far from being a living wage.
He said: "The federal government should consider the demands of the Nigerian workers. I have said it time without number that the Nigerian workers do not have living wage and there is no way we shall continue to pretend that there is no money, when a lot of people are living in affluence in Nigeria.
"Nigerian workers deserve a living wage and even the N30, 000 they are demanding is not living wage. There is nobody in my employment that earns below N40, 000 a month, not one, many people earn N50, 000, N70, 000, N100,000 and above. So I don't know why the government is very adamant in addressing the plight of workers.
"It is unfortunate that some governors are saying they will pay workers only N22, 500. How can a worker use N22, 500 a month to look after his or her family? We have to look at these things on the basis of practicability and that is why governments have to know how to cut their cost."
Insisting that there were many wastages in the government, Umeh asked the authorities to cut their excess spending and give those working for the country the sense of belonging, adding that even the money appropriated for special projects could not be felt anywhere.
He said further: "I work in the Senate and I know that N500 billion was dedicated to special projects to fight poverty. Where is the money? Where is the N500 billion?
"Yes, I may say they spend about N24 billion every month. I am from Anambra state and I have not seen where that money is applied. So what I am saying is that government should know how to manage its resources and pay Nigerian workers that money they are asking for.
"Why should government say that a man that has, maybe seven children, should take home N22, 500 a month? They are working for Nigeria and it is not the right thing to do. So I think government should know that it is not only people who are in leadership that are entitled to Nigeria's money. Let them check it themselves and understand that the money they are demanding, N30, 000 a month, cannot solve any problem in the family.
"There is so much money that government is filtering away and if they can cut their mismanagement of resources, they can pay workers N30, 000 very easily and the country will continue to go on because a disgruntled worker cannot produce anything."