Judge Fines Prosecutor In Charge Of Seun Egbegbe's Case N50,000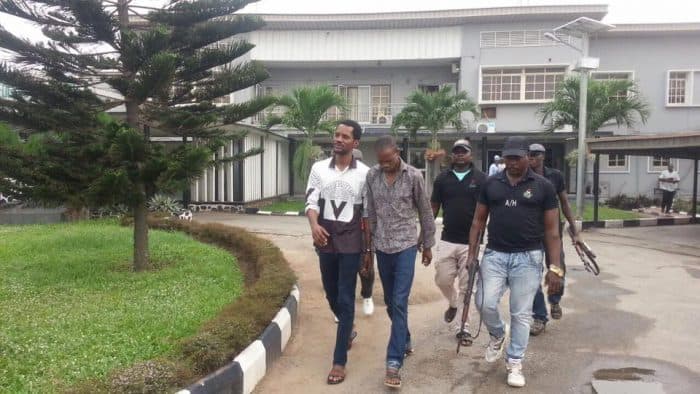 Innocent Anyigor, the prosecutor in charge of the case of Nollywood film-maker, Olajide Kareem, also known as Seun Egbegbe has been fined #50,000 during the trial.
The fine was imposed on him during the previous proceedings.
Justice Oluremi Oguntoyinbo, who sat at the Federal High Court in Lagos, rejected the plea by the police prosecutor that the N50,000 be waived.
The prosecutor was blamed by the judge for been slow with the case since Egbegbe and his co-defendants were arraigned in February last year.
The judge during the previous hearing awarded N50,000 cost against Anyigor after the defence counsel raised objection to the competence of a police officer, Godwin Omaka, to testify in the case.
Shortly after Omaka entered into the witness box at the last hearing, the defense counsel complained that they could not find his name on the list of the witnesses which the prosecutor served on them as part of the proof of evidence.
The prosecutor, while responding to the claim apologised, stating that it was an oversight. But Justice Oguntoyinbo rejected the apology and awarded N50,000 cost against Anyigor, stressing that the fine must be paid before the next adjourned date.
When the case was re-opened on Monday, the judge asked Anyigor why he had not paid the fine and he urged the judge to waive it.
In view of the judge's refusal to waive the fine, the prosecutor pleaded to be given two weeks to raise the money.
But Justice Oguntoyinbo said she could not grant any adjournment longer than seven days, noting that the case had already dragged.
"I am getting fed up with this case. There has to be an end to litigation; this matter must end. We are talking about human lives. Only one of them (defendants) has been able to secure bail, the others are in prison. Justice delayed is justice denied. These are young people, let them know their fate," the judge told the prosecutor.
She subsequently adjourned the case till November 7, 2018, directing the prosecutor to ensure that the fine was paid.