CNPP Commends Labour, Says State Governor Who Can't Pay N30,000 Minimum wage Wicked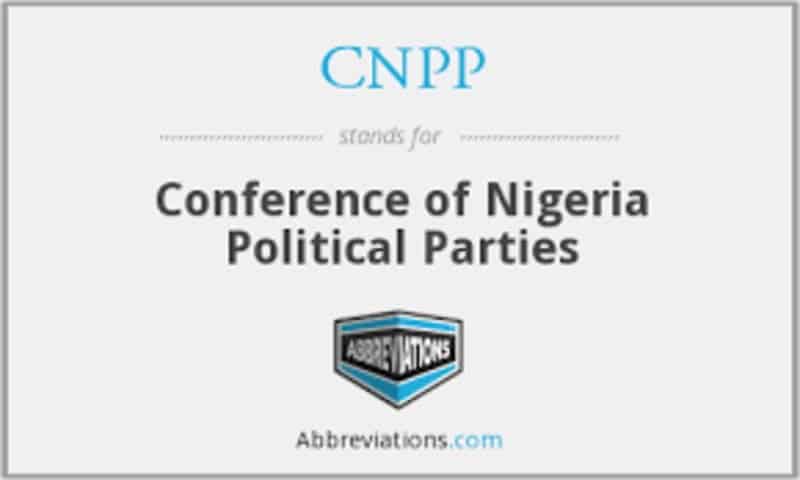 Conference of Nigeria Political Parties (CNPP) has described as wicked any state government that claims it cannot pay N30,000.00 minimum wage which has been agreed by the federal government and the Nigerian workers' unions.
The CNPP, in a statement issued in Abuja on Monday by its Secretary General, Chief Willy Ezugwu commended the labour movement "for remaining committed to the struggle for a living wage for the Nigerian workforce, who are the ones generating the government revenue at all levels."
The umbrella organisation of all the registered political parties and political associations noted that "it is time for the Nigerian government at all levels to come to terms with reality and stop playing politics with workers' welfare.
"These workers we are talking about have families and defendants to take care of, not to mention the expenses they incur as they go to work daily.
"At the Nigeria's federal capital territory, for instance, some workers reside in neighboring states like Niger and Nasarawa because they cannot afford to pay exorbitant residential rents in the city center.
"The same is the case in some states, yet some governors are saying that they cannot afford to pay N30,000.00 minimum wage, less than $100 a month, while they can spend millions on fueling their long convoys monthly.
"We believe that governor who cannot pay N30,000.00 minimum wage is wicked and should honourably vacate his seat so that a better manager can occupy it.
"The governors should visit states like Lagos, Enugu and others to understudy how they are able to pay salaries and pensions.
"The Enugu State example is unique because the state is not industrialized and not on the list of oil producing states yet the governor has been paying 13th month salary as bonus to the state workforce", the CNPP stated.
Copyright Naija News 2018.
All rights reserved. You may only share Naija News content using our sharing buttons. Send all news and press releases to
[email protected]
.
Police Locked Me Up In The Toilet When Falana Visited – Evans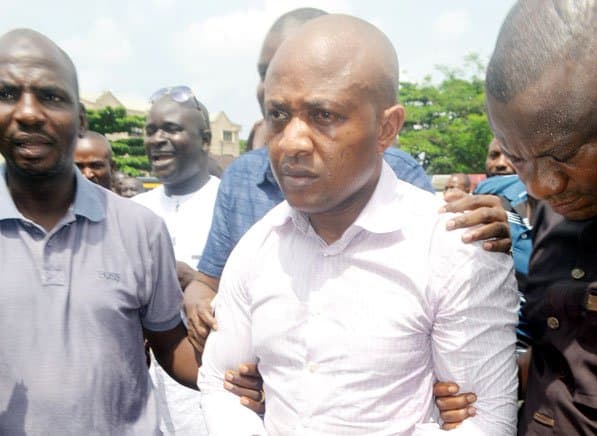 Chukwudumeme Onwuamadike, alias Evans, the suspected billionaire kidnapper, has maintained that he was tortured by police to make his confessional statement.
He countered the claim by the police that his statement was obtained under a fair atmosphere and that the statement could have been taken in the presence of a lawyer, if Evans had hired one.
Evans made this known before Justice Adedayo Akintoye, during the Friday proceedings in his trial at the Lagos High Court.
He further alleged that the Police locked him up in the toilet to prevent him from been seen by human rights lawyer, Mr Femi Falana (SAN)
Evans said immediately after he was arrested by the police in 2017, his wife, Uchenna, contacted the human rights lawyer, but upon the lawyer's visit to the police station, he was told that he (Evans) had been taken out for investigation.
Falana warned, however that the police should not come up with claims that the suspect had been shot while trying to escape.
Led in evidence by his lawyer, Mr Olanrewaju Ajanaku, Evans insisted that he was threatened to put his signature to an already prepared confessional statement by men of the Special Anti-Robbery Squad who he accused of murdering several suspects in his presence "in Saddam Hussein style."
He said, "Immediately after my arrest, my wife called Mr Femi Falana and he came to SARS. But CSP Phillip told two armed policemen to hide me inside the office toilet and to tell the lawyer that I was not around.
"I heard Phillip greet him, and Mr Falana said he wanted to see me. CSP Phillip told him that I had been taken out for investigation.
"Mr Falana warned him that he did not want to hear that I was trying to escape and then I was shot dead. He told them that if I had committed any offence, I should be charged to court."
I Married Atiku For His Integrity, I Know Him – Titi Abubakar
The wife of the Presidential candidate of the People Democratic Party (PDP) Atiku Abubakar, Hajiya Titi Atiku Abubakar, has revealed that her marriage to Abubakar was instigated by his integrity and patriotism.
Mrs Abubakar made this known went she received a campaign group, Women for Atiku, that no one knew Atiku better than she does, having been married to him for 47 years.
According to her, contrary to the vague allegation of corruption by political detractors, Atiku was actually a man whose integrity, honesty and sincerity earned him her love.
Titi Abubakar with the Women For Atiku says her husband a man of integrity
"I usually got confuse Whenever i read the false allegations of corruption being spread by mischief makers against my husband in the media.
"Most times i ask myself if they were referring to my husband whom I have been married to for 47 years or a different person.
"Their descriptions only befits the opposite of Atiku Abubakar, because he is not corrupt as alleged," Titi Said.
She insisted that the Presidential hopeful have not been found wanting in the area of honesty, sincerity, integrity and patriotism to his fatherland since she got married to him 47 years ago.
She asserted that her encounter and eventual marriage to her husband was initiated by God.
"I was on my way back to Nigeria from Benin Republic wher I went to visit my aunt at the idioroko boarder and was accosted by ofifcers of the Customs Service.
They had demanded that I pay duty for a pair of brocade material which was a gift from my aunt, an argument ensued between us and i told them to have the brocade material for a keep because i couldn't comprehend why i should pay duty for a pair of brocade.
"Suddenly an officer by name Atiku Abubakar who heard our argument summoned the officers to come along with me to his office.
"He was the head of the command at the time. After listening to both sides, Atiku demanded for the duty charge, dipped his hand into his pocket and paid the duty and handed me the receipt smiling and saying that 'I will pay him back'.
"As the head of the command he could have simply commanded them to let me go if he chose to, but his patriotism to fatherland would never allow him do so, and that singular act swept me off my feet and i eventually fell in love," she said.
The National Coordinator of Women for Atiku Mrs Blessing Egbara thanked Mrs Titi Abubakar for the warm reception accorded to her group.
Egbara assured Mrs. Abubakar that the group will continue to mobilize support for the candidature of her husband.
Egbara said that the group would embark on voters mobilisation and education adding that the group would also mobilise all registered voters to collect their Permanent Voters Cards PVCs
ASUU Strike Continues As Meeting With FG Ends In Deadlock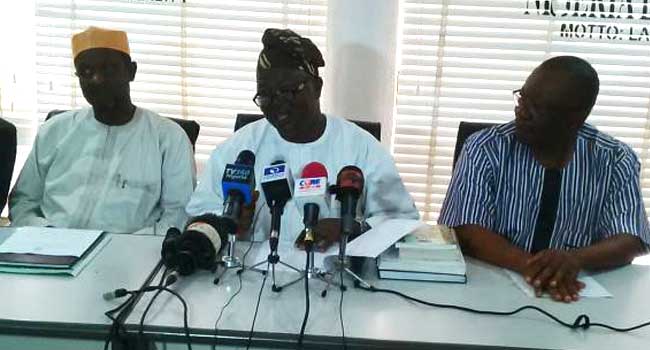 The Academic Staff Union of Nigerian Universities (ASUU) meeting with the federal government on Thursday ended in a deadlock.
The national president of ASUU, Abiodun Ogunyemi, made this known to reporters after the meeting.
He said the strike was still ongoing and would not be called off as ASUU's demands had not been met.
He said the federal government and ASUU teams agreed that the negotiation will resume next week
"We have just started the discussions; we have not really gone far. So, what we have done today is just to open up the issues. So, the strike still continues," he said
"We have not fixed a date for the next meeting but by tomorrow, we should know."
He noted that universities in Nigeria had been subjected to 20 years of continued "re-colonisation under alleged democracy".
He stated that the problems with university education have affected the country inversely.
He said the strike is total, comprehensive and indefinite as members have withdrawn their services until government fully implements all outstanding issues.
"This strike is total, comprehensive and indefinite. Our members shall withdraw their services until government fully implement all outstanding issues as contained in the MOA of 2017, and concludes the renegotiation of the 2009 agreements,"
"We have been subjected to 20 years of continued re-colonisation under alleged democracy in which all that the ruling circle have been regrouping among themselves in their various faction they called political parties." he said.
ASUU, on August 13, embarked on an indefinite strike following government's failure to implement the agreement reached in November 2016.