Biafra Zionists Threaten Mass Suicide Over Disappearance Of Leader, Benjamin Onwuka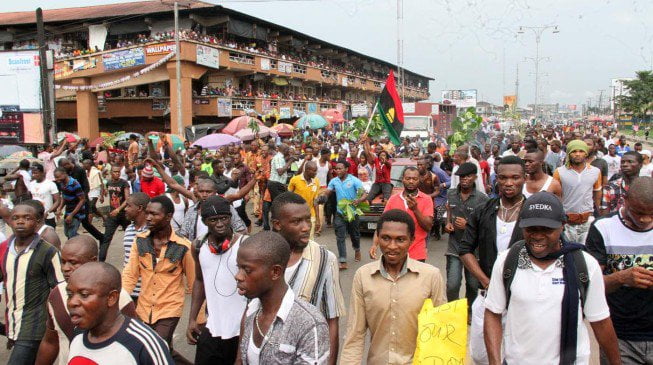 Biafra Zionists Give Seven Days Ultimatum For Security Operatives To Provide Their Leader
Members of the Biafra Zionists Federation have threatened to commit "mass suicide" due to the uncertainty over the whereabouts of their leader, Benjamin Onwuka.
Onwuka and some members of the group were arrested on August 20 while trying to occupy the Enugu State Government House, where they attempted to declare the 'independence' of the Republic of Biafra from Nigeria, Naija News recalls.
The secessionists were arrested by the police and the Department of State Services as they approached the gate to the Government House.
The BZF leader's whereabouts has remained unknown ever since.
In a statement on Sunday, National Coordinator of the BZF, Gilbert Ogbu, said the group had waited in vain for the DSS to either release their leader or charge him to court.
Ogbu warned that the Biafra Zionists would commit mass suicide within seven days if Onwuka was not released or taken to court.
The secessionists plan to occupy major roads in the South-East where they will be crushed by moving vehicles, according to Ogbu.
The statement read, "We want to further inform Nigerians and the international community over the unlawful detention of our leader, Benjamin Onwuka, by the DSS.
"It is now over two months and they have refused to charge him to court, contrary to the provisions of Nigeria's constitution, which says nobody should be detained beyond 24 hours.
"More worrisome is the silence of the security agencies, the South-East governors and Ohanaeze Ndigbo, we are beginning to think that there is a collaboration among them.
"We are issuing a seven-day ultimatum, after which we have no option but to commit suicide.
"We shall occupy all the roads in the South-East and either get crushed by vehicles or have ourselves killed by security forces."
 "We are drawing the attention of the international community, especially the United Nations, the Amnesty International, the United States and Israel to the oppressive tendencies of the Federal Government of Nigeria.
"We have our right to self-determination as provided for in all international treaties and we are not ready to sacrifice it."
Download NAIJA NEWS app: