Imo Primaries: Oshiomole Speaks On The Court Order Sent To Disregard New Candidates Of APC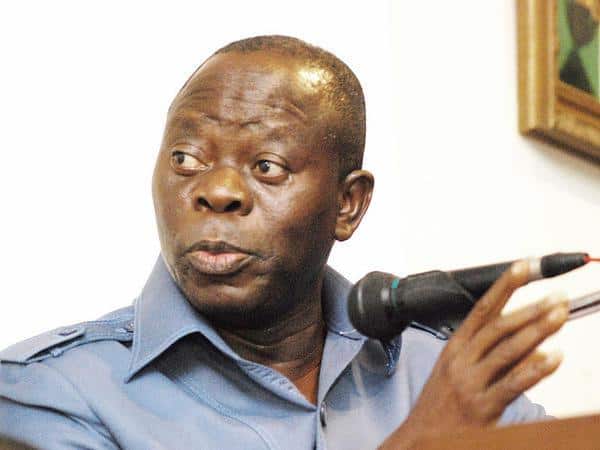 The National Chairman of the All Progressives Congress (APC) Adams Oshiomhole, has confirmed receiving a court order from the Chief Judge of Imo State,Naija News Understands.
If truely I am not a fans of oshiomole.but for the fact that he do justice in the case of Ogun and IMO I gave kudos to him irrespective of what those oppressors may say. thank you for doing justice

— Titilayo Adeola (@TitilayoAdeola5) November 3, 2018
According to Oshiomhole, the Chief Judge of the state instructed the party not to recognise any candidate that emerged from a repeat primary election conducted in the state on October 6, 2018.
The party's chairman stated this to journalists in Abuja on Friday.
He said, "A court order issued by the Chief Judge of Imo State, where Governor Rochas Okorocha heads the executive branch and the Chief Judge heads the judicial branch.
"The judge in his wisdom having had prayers by those who appeared before him including the Deputy Governor of the state, Eze Madumere, who was the one that obtained the court order which directed me (Oshiomhole) not to have anything to do with any secondary or repeat primary, the governorship primary in Imo State".
Oshiomhole insisted that the court order was made in a pre-emptive suit filed by his deputy (Madumere) challenging the directive for a second primary in which a former Chief of Staff to the state, Uche Nwosu was declared the winner.
"In line with the advice of my very dear friend, Rochas Okorocha, we will have nothing to do with the second governorship primary that allegedly produced his son-in-law, Uche Nwosu", he added.
The National Chairman also reaffirmed Mr Dapo Abiodun as the candidate of the party in Ogun State.
He said, "Based on the rules of our party and in accordance with INEC guidelines, we have conducted governorship elections in Ogun State and submitted the name of the winner, Prince Dapo Abiodun, to INEC for the purpose of the forthcoming governorship election".
Oshiomole must learn to respect court orders. This issue of treating court orders as tissue paper must stop~Okorocha

Lmao! Look at Okorocha telling Oshio to respect court order.Has he forgotten that disobedience of court orders runs in the APC family?When the head is rotten..

— Miz Cazorla (@MizCazorla1) November 2, 2018
Read More News. Download Naija News App. Send us enquiries and press releases.