Governors Agree N22,500 As Minimum Wage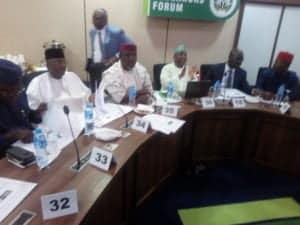 After prolonged deliberation, the Nigeria Governors' Forum (NGF) has pegged the national minimum wage of N22,500 from the existing N18,000.
Governor Abdul'aziz Yari, the chairman of the forum, and governor of Kebbi state made this disclosure at the end of its 2nd emergency meeting held in Abuja.
The briefing of the representative of the forum at the Tripartite Committee was the bases with which the decision was made.
He said that in agreeing to a National Minimum Wage, the Forum was even more concerned about development, particularly in the health, education and infrastructure spheres.
"It is therefore our considered position that since the percentage of salaried workers is not more than five per cent of the total working population, our position must not just reflect a figure, but also a sustainable strategy based on ability and capacity to pay, as well as reflective of all our developmental needs in each State.
"After all, Section 3 of the National Salaries Income and Wages Commission Act provides that "the Commission shall recommend a proposition of income growth which should be initiated for wage increase and also examined the salary structure in public and private sector with reasonable features of relativity and maximum levels which are in consonance with the national economy"
"It is in this sense that we feel strongly that our acceptable minimum wage must be done in such a way that total personnel cost does not exceed 50 per cent of the revenue available to each State.
"Governors therefore agreed to pay a national minimum wage of N22,500."
The News Agency of Nigeria (NAN) reports that at the meeting with the governors were the Minister of Labour and Productivity, Dr Chris Ngige and the Minister of Budget and National Planning, Sen. Udoma Udo Udoma.
Some of the governors at the emergency meeting were Kebbi, Ebonyi, Imo, Lagos, Plateau, Osun, Ekiti, Ogun, and Nasarawa represented by Deputy, Adamawa.
The Organised Labour had scheduled Nov. 6 to embark on nationwide strike to compel government to peg a new minimum wage at N30,000.
Source: Naija News