Dogara Speaks On Why Stiffer Punishment Is Needed For Human Trafficking, Modern Slavery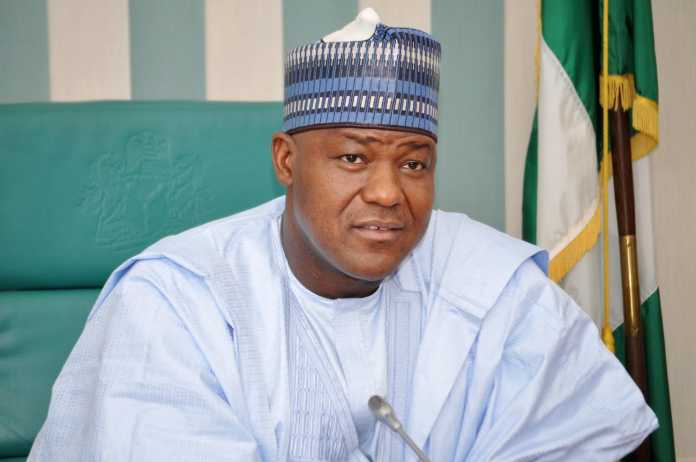 Speaker of the House of Representatives, Hon. Yakubu Dogara has stated that laws against the twin evils of human trafficking and modern slavery alone wouldn't be able to cure the menace.
Speaking at the opening of a consultative with Common Wealth Parliamentary Association (CPA) United Kingdom delegation to Nigeria and other stakeholders hosted by the House of Representatives Committee on Inter-Parliamentary Relations in Abuja Monday, Hon Dogara said that justice must be seen to be done against perpetrators of the heinous crimes against humanity.
"We should not be unmindful of the fact that laws alone, no matter how well crafted cannot solve this evil. For instance, Britain is a world leader in modern slavery legislation but yet London is an international hub for modern slavery. Research conducted by the CO-OP in 2017 suggested that four out of ten people in the UK are not sure what modern slavery was. In most countries the figures are more appalling. We are not likely to succeed in the fight against this evil with near pervasive ignorance of its existence.
The @CPA_UK Modern Slavery Project is partnering with @nassnigeria to deliver a roundtable on building synergy in the fight against modern slavery, human trafficking & forced labour. Meeting is attended by key parliamentarians, government officials & stakeholders. pic.twitter.com/E9HEw3vU1e

— CPA UK (@CPA_UK) October 29, 2018
"To win this war we need to up our advocacy because with increased awareness comes increased determination to act. I charge us not to forget that survivors and victims of this evil are not entitled to pity but justice. Justice is best served in this case if we help to bring perpetrators to justice and mobilize resources with which to bring sustainable comfort to the survivors….", the Speaker stated yesterday at the opening of CPA-UK delegation, and other stakeholders consultative meeting, organised by the House Committee on inter-parliamentary relations.
The Speaker while tasking stakeholders to ensure exhaustive discussion on how to address the challenges, noted that "We can make history if we don't give up the fight".
Dogara said; "The evils of the modern slavery/human trafficking/forced labour being perpetrated in Nigeria and several other countries are obvious to all of us. They present one of the worst cases of inhuman treatment and wickedness of man to fellow human beings. They also contribute to the high incidence of poverty, social distress and crimes generally in countries where they occur. The global community have made efforts, particularly in the last two decades to stamp out this sore on humanity's conscience with mixed results.
"Nigeria, as we know, occupies a central position in the West African axis as a country of origin, transit and destination for victims of human trafficking for forced labour, sexual abuse and other forms of exploitation. Men, women and most especially children are trafficked from Nigeria to Western Europe, Middle East and some African countries. Victims from neighbouring countries like Benin, Cameroun, Niger, Burkina Faso and Mali are also brought into Nigeria for forced and hard labour.
"In addition to these, there are prevalent incidences of rural to urban trafficking within Nigeria, in which women and children are trafficked for domestic, agricultural and industrial labour, as well as sexual exploitation and street begging. Researches have also confirmed that parents, particularly from the northern parts of Nigeria, force their children to engage in sustained begging for economic survival or daily sustenance.
"The establishment of the National Agency for the Prohibition of Trafficking in Persons (NAPTIP) through the NAPTIP Enforcement and Administration Act, 2003, was one of the first decisive steps taken by the Nigerian government to curb the illicit human trafficking enterprise. In 2015, the Parliament passed an Act to amend the Law, which increased the penalties for trafficking offenses to a minimum of five years imprisonment, among others. However, in spite of the various improvements in the Law, the envisaged effective apprehension and conviction of offenders have not been achieved.
"This explains the need for the Trafficking in Persons Prohibition, Enforcement and Administration (Amendment) Bill, 2018. The Bill, which seeks to amend the 2015 Act, will establish Special Trafficking Court, expand the composition of the Governing Board of NAPTIP by including members from the Economic and Financial Crimes Commission, (EFCC), increase penalties and criminalise certain offences, among other provisions. It is hoped that this Bill, when passed into law, will help to tame the hydra-headed monster of human trafficking, sexual exploitation and related offences.
"I believe that the outcome of this Consultative Meeting will help to enrich the Bill and facilitate our victory in the war against trafficking in persons and other associated crimes. I urge the stakeholders to be exhaustive in their submissions and deliberations so that together, we can fashion a statute that will meet our expectations and the desired end".
---
---
© 2023 Naija News, a division of Polance Media Inc.