Sen. Marafa Blames Gov. Yari For Anti-Oshiomhole Protest In Zamfara State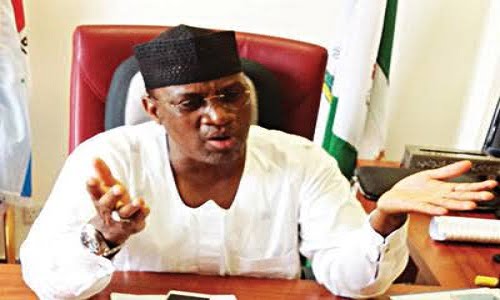 Senator Kabir Marafa, has criticized a group of protesters who took to the streets of Gusau, capital of Zamfara state yesterday to protest against Adams Oshiomhole, national chairman of the All Progressives Congress (APC).
While reacting, Marafa accused Abdul'aziz Yari, Zamfara governor, of sponsoring the protest.
"Yari and his co-travelers are wrong and comrade Oshiomhole is right as far as the issues in the party are concerned," Marafa said.
"There was a court order that says all parties should not take any step that will render useless the litigation before it. The party under the able leadership of Comrade Adams Oshiomhole respected the order and said all parties in the crisis should hands off.
"The party and its leadership should be commended for respecting the law, a foundation upon which APC was built. Two, when the committee of the NWC came to conduct the primary in Zamfara, violent orchestrated by Yari's people erupted, the committee was forced to cancel the election. This is also a valid thing.
"The position taken by the governor that primaries should be conducted by the executives in his camp was irresponsible, contemptuous and height of lawlessness.
"The crux of the matter is that there was no election and there was no consensus in Zamfara. So, we are commending comrade Oshiomhole and INEC for respecting the court order."
Marafa noted that instead of sponsoring the protests, the governor should have diverted the money towards the release of 17 persons, including two young girls, kidnapped in Dauran, Jangebe, Magami and other locations in the state.
"The money spent on the protest should have been used to assist the security agencies in the state to rescue the abducted persons," he said.
"The governor has stopped assisting security agencies with fund in the state in the last five months."