Panic As Herders Attack Farmers In Ondo State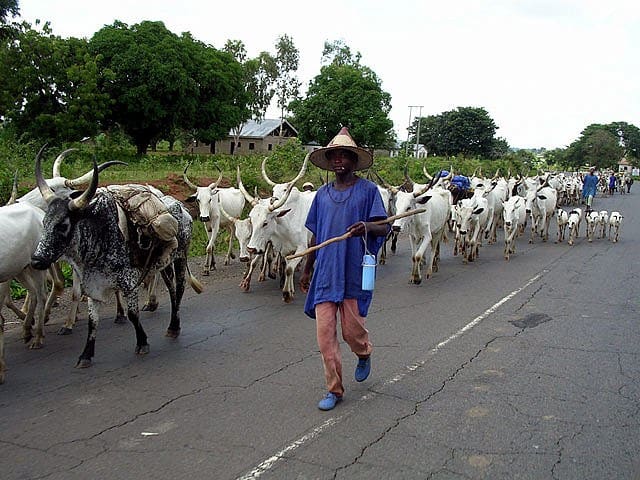 Pandemonium erupted on Friday in Odigbo local government of Ondo State, as hoodlums suspected to be herdsmen  attacked farmers at Nirowo forest along Benin – Ore express way.
Some of the farmers who sustained gun shot wounds are currently receiving medical attention in an undisclosed medical center in Ore.
A victim of the attack, Sunday Wekoyo, an indigene of Ebonyi State was said to be a farmer and hunter in the forest for about five years, said he by divine providence excaped the rampage from the suspected herders.
Wekoyo who confirmed that they have been previous terrorizing them in the forest but has always been lucky.
While narrating his ordeal on the hospital bed,he said "I was in the forest to check my traps before a group of the herdsmen numbering about 12 , who I initially thought were local vigilante group, ordered me to come closer before they opened fire on me .
" Out of fear, I moved near them, they pointed their guns, that was how I quickly climbed my motorcycle, and in my attempt to flee , they released the bullets on me . I became so weak immediately but managed to walk some distance to a near by camp where I sought assistance"
The leader of the vigilante group in Ore, Olawale Aboyede confirmed the incident.
He said he was in the farm when he heard about the incident and has to quickly mobilize his men to rescue the victim to the hospital.
Aboyede believed that the havoc carried out by suspected herders, believed that migrated from another country to unleash terror on them.
Aboyede narrated how one of their victims, a pastor,was kidnapped and later killed last year.
He commended the police force for doing their best,stressing that the area is a difficult terrain and the expanse of the forest which he described as very huge with a boundary across Osun , Oyo and Ogun state.
The police spokesman, Femi Joseph, a Superintendent of Police(SP) could not be reached for comments on the incident.
Source: Naija News