MFM General Overseer, Olukoya Files N2b Law Suit Against Sowore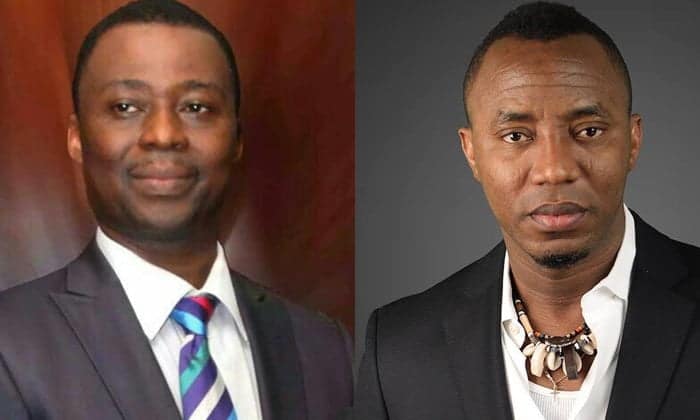 DK Olukoya Files Suit Against Sowore For Defamation.
The General Overseer of the Mountain of Fire & Miracles Ministries (MFM), Dr. D.K. Olukoya , has filed a N2 billion suit against Sahara Reporters owner Omoyele Sowore for defamation of character.
In the suit filed before the High Court of Akwa Ibom State , Uyo, Sahara Reporters Incorporation and Objective Media Group Limited were listed as the 2nd and 3rd defendants.
The clergyman in the court papers, accused Sowore of consistently churning out publications that are defamatory to his person.
Olukoya and his church are claiming N2 billion against the defendants for alleged aggravated libel and have asked the court to order Sowore and his media platforms to pull down and erase each of the offending posts from the internet forthwith.
They are also praying for an order directing the defendants to tender written apology and retraction in form and content acceptable to the claimants and published prominently in Sahara Reporters online news media, on Facebook and in at least three nationally circulating newspapers and two international magazines, including TIME International.
In addition, the clergyman is asking the court to issue an order of perpetual injunction restraining the defendants by themselves, his agents, servants, privies or other persons howsoever called or described, from further making, publishing and/or disseminating libellous stories and statements against the claimants or any one of them.
In the court papers, the clergyman alleged that Sowore and Sahara Reporters on September 4th, 2018, made and posted a video recording of Sowore addressing a crowd of his purported political supporters on their respective Facebook pages under the heading "Breaking! Sowore Reveals Why MFM General Overseer Daniel Olukoya Is After Him, as He Arrives Lagos".
The video was published after the clergyman had filed a seperate suit against Sowore and Sahara reporters.
In the said video, Sowore was alleged to have falsely and maliciously said to have spoken and published against the the clergyman and his church the following words inter alia namely:
"On Olukoya, very important because this is the latest that happened. I have done reporting on many cabals and you know in this country there are religious cabals, political cabals, traditional cabals and family cabals so I touched all of them not only Olukoya. Remember the one that was sleeping with a prostitute in Canada… It was then that he then went and looked for a Judge in Uyo. Imagine a man of God that is on Lagos – Ibadan Expressway now going to look for a judge in a case that doesn't even involve them. My suspicion is that they found a judge who is probably a member of their Church who said that he will teach Sowore a lesson. That is not going to happen…"