I Would Campaign For Sanwo-Olu, Buhari – Ambode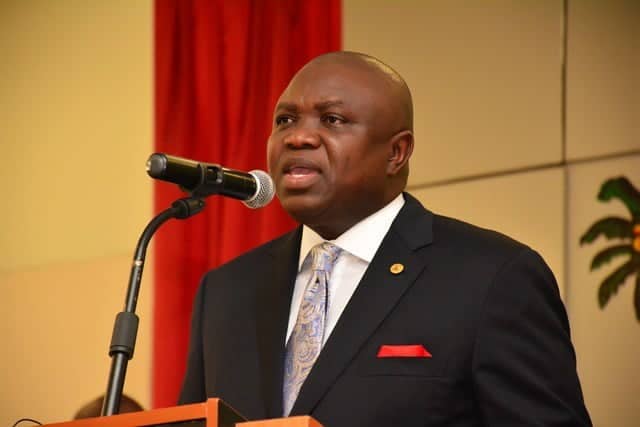 Lagos state governor, Akinwunmi Ambode has declared his intentions to support President Muhammadu Buhari and Babajide Sanwo-Olu, governorship candidate of the the All Progressives Congress (APC) in the state.
This he said while addressing reporters at the presidential wing of the Murtala Muhammed International Airport shortly after he accompanied Buhari to perform the official commissioning of the new Economic Community of West African States (ECOWAS) Seme-Krake joint border post in Badagry.
He emphasised that the APC leadership has to be maintained at both Federal and State levels.
"I have just accompanied Mr President to the Nigerian-Benin Border Post. So what we have commissioned today is a joint Border Patrol post between Nigeria and the Republic of Benin and it is called Semo-Krake Border Post," he said.
"But again, just to also use this opportunity to let Lagosians know that we are heavily committed to the re-election of Mr. President and you can see that his continuous visit to Lagos reiterates the fact that he is actually a lover of Lagos state and I am committed to ensuring his re-election.
"We are going to campaign heavily for him. I am also committed to ensuring that the APC wins the governorship election come 2019. We support the candidacy of Babajide Sanwo-Olu and we would make sure that APC retains Lagos State and the centre."
Ambode had received Buhari earlier in the day before they proceeded to Seme where the president joined his Republic of Benin counterpart, Patrice Talon, to inaugurate the border post.
Seme-Krake joint border is one of the busiest boundary lines not only in West Africa but on the whole continent.
On a daily basis, it records huge movement of persons, goods and services.
The border post is expected to enhance the free movement of persons and goods in the region and foster integration between Nigerians and citizens of Benin