Biafra: Nigerians Reacts To Nnamdi Kanu Allegedly Seen Praying In Israel (Video)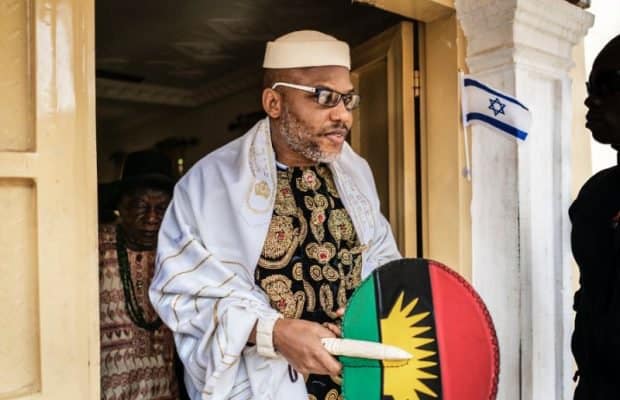 The missing leader of the proscribed Indigenous People of Biafra, Nnamdi Kanu, has been allegedly  spotted in Israel.
#Nnamdikanu live pic.twitter.com/ee5uXGsqvO

— HOPE (@NWWOFOR) October 19, 2018
The purported pictures and video has triggered several reaction from Nigerian and Fellow IPOB member.
Mazi #NnamdiKanu the supreme leader of #IPOB is back, Africa and the world should rejoice. In less than an hour he will be on air from Israel. pic.twitter.com/sVE2TCwF5u

— Emeka Gift (@EmekaGift) October 19, 2018
No Mr Reno, kindly count we #IPOB out of anything politics in 1 #nigeria #NigeriaIsNotOneWithBiafra and long live our Supreme Leader Mazi #NnamdiKanu welcome back my great hero. May Chukwu Okike Abiama be praised at all times. Ise Ise Ise @Amaka_Ekwo @nlitvin @cedoziemm @mefonna https://t.co/ArDciyiP47

— ChukwuemekeNwabiafra (@chuksudoma1) October 19, 2018

Naija News also learnt that the younger brother, Emmanuel, to The missing leader of the proscribed Indigenous People of Biafra, Nnamdi Kanu, said that the family received the news through an online video shared by one Castro Nkume.
@radiobiafralive @Amaka_Ekwo @Jerusalem_Post This is the MAN who stole my heart long time ago with his honesty and humility. #NnamdiKanu I will always tell your story because I know with you, my generation will be so proud to call themselves Biafrans. Shabbat Shalom NwaChineke. pic.twitter.com/yfE2IwcEPG

— MezieClements (@Mezie_Clements) October 19, 2018
Emmanuel, also  said that, the deputy director of IPOB Uche Ejiofor has also confirmed that the man seen in the video was Kanu.The whereabouts of Kanu and his parents had remained unknown since their family house was allegedly invaded by soldiers on September 14, 2017, during the Operation Python Dance ll in the South East zone.
Emmanuel said IPOB members and the entire residents of their Isiama Afaraukwu community received the news with joy and they were glad that Kanu is still alive.
He, however, said the family had yet to receive information concerning the whereabouts of Kanu's parents.
He said, "I can confirm to you that the person in the video is Kanu. He was praying in the video that we saw.
"We are happy that he is still alive and we will try to establish communication with him."
This are the reactions of Nigerians so far
Photo: Cerebration of appearance of supreme leader of Indigenous people of #Biafra Prince Mazi #NnamdiKanu in #Jerusalem Israel.
Biafra Jews match round Afaraukwu Ibeku Umuahia.

19/10/18. pic.twitter.com/6XrieVYd1h

— Shabbat Ala Biafra (@ShabbaAlaBiafra) October 19, 2018
Another person stated
@adeyanjudeji a warrior who knows the right time to retreat is not a coward. He only leaves to fight another day. Sighting #NnamdiKanu in Jerusalem doesn't make him a coward. If he had stayed back to prove "strong head" the Buhari led administration would have pic.twitter.com/cj81Tcrnz7

— Chukwuemeka_Official (@TheReal_Emeka) October 19, 2018
Download NAIJA NEWS app: