Missing General: Army Parades 13 Suspects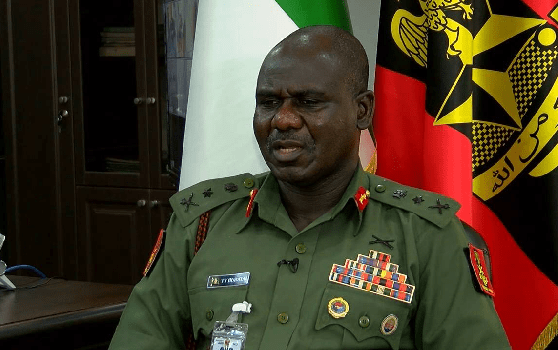 About 13 suspects arrested in connection with missing Maj.-Gen. Idris Alkali (retd) have been paraded before journalist in Jos, Plateau State.
The Garrison Commander, 3 Division, Nigeria Army, Rukuba, Brig.-Gen. Umar Muhammed, stated that the suspects would be handed over to the Police for full investigation.
The commander revealed that the suspects were apprehended in connection to the Jos Pond saga.
Alkali, the immediate past Chief of Administration, Army Headquarters, Abuja, was declared missing on September 3.
His disappearance prompted the Chief of Army Staff, Lt.-Gen. Tukur Buratai, to order a search operation for the missing general.
The Army authorities said that after a thorough investigation, they narrowed the search to a mining pond in Dura-Du in Jos South Local Government Area of Plateau. And, after two weeks of draining water from the pond, Alkali's car and two other vehicles were recovered from the pond.
"They were moved to the barracks where they were screened, profiled and interrogated.
"These suspects will be handed over to the Nigeria Police for further investigation and prosecution.
"The persons to be handed over to Police include those who were in possession of firearms without licence.
"Those who heard and saw the criminals that stopped the retired senior officer and those that pushed his vehicle into the pond but failed to report these criminal acts to the security agencies will also be handed over." he said.
The commander added that the men of the force coordinated the operation in a professional manner.
He added that those apprehended for the criminal activities in relation to the kidnap were treated fairly. He stated that some of the suspects who were still on the run were known to the army.
According to him, efforts are being intensified to arrest them, as their photographs and personal details are with relevant security agencies.
The commander admonished the community close to the pond, especially residents not culpable for the atrocities committed at the pond, to return home as the army has no issue with them.
Muhammed assured that no harm would come to them, but vowed that those who had anything to do with the incident would be brought to book.