Presidency Speaks On The Video Alleging Kano State Governor, Ganduje Received $5m Bribe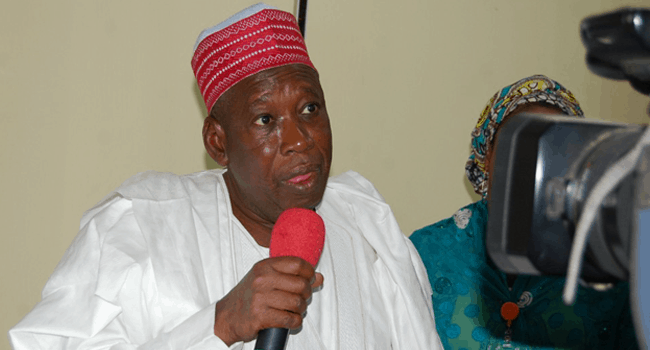 The presidency earlier today, reacted to the viral video of Kano State Governor, Abdullahi Ganduje, who has been accused of receiving bribe amounting to about $5million from contractors in the state.
It will be recalled that Naija News had earlier reported that a sting operation by an online newspaper that captured the governor on camera was said to have began two years ago when one of the contractors agreed to plant spy camera on his kaftan while offering the bribe.
During the about 10-month effort to capture the bribe giving/taking scenes, the governor's face and body were reportedly clearly captured in nine clips, while six others did not clearly reveal the governor's face.
However, the clip stirred reactions online as some Nigerians described the development as a "shame to the Buhari led administration,who claim to be fighting corruption.'
You are obviously ignorant. The report said the person who recorded hid the camera in his cloth In this political season, don't get carried away with anything and everything .THINK https://t.co/cTDXgjDaat

— Abike Dabiri-Erewa (@abikedabiri) October 14, 2018
The Senior Special Adviser to the President on Diaspora & Foreign Affairs, Abike Dabiri-Erewa, said the video was suspicious.
I have watched the Abdullahi Ganduje dollar video. The people who have the video should let us hear the audio conversation. You can't present that in court as evidence. Collecting dollar or being in possession of dollar is not instant crime. The gist behind would validate claims.

— Ediong (@Ediong) October 14, 2018
On her Twitter page, she wrote, "No audio?? Suspicious."
Responding to a user, who asked if CCTV had audio? she said, "You are obviously ignorant. The report said the person who recorded hid the camera in his cloth, in this political season, don't get carried away with anything and everything. Think."
Download NAIJA NEWS app: