President Buhari Speaks On The Use of Foreign Currency To Buy Votes in Election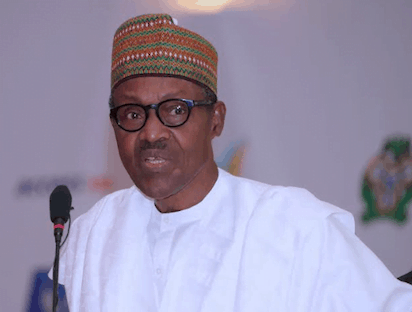 Buhari Attends Interfaith Conference Ahead Of 2019 General Elections
Today in Abuja I addressed a Conference by the Interfaith Initiative for Peace, with the theme, "Religious Harmony in Nigeria: Towards the 2019 General Election." The full text of my speech: https://t.co/Rl3MUZcQKe pic.twitter.com/q6DfmJdpkq

— Muhammadu Buhari (@MBuhari) October 13, 2018
President Buhari who also advised Nigerians to ignore those who whip up religious and ethnic sentiments and dismissed them as fraudulent said Nigerians must ask questions and pray before casting their votes.
Your seat is subject to democratic coup,Baba let the masses feel your impact…. Nigerian youths are going for ? dollar's,i don't blame them because they won't eat your integrity as three square meal.

— Prime Minister (@Muneeer_MD) October 13, 2018
According to the President, he is proud that the era of what he calls free money is over. He lamented the use of foreign currencies in some of the just concluded primary elections in the country.
In attendance at the event were the Arch Bishop of Canterbury, former Heads of State, Generals Abdulsalam Abubakar and Yakubu Gowon and the CJN.Others are the SGF, the co-conveners, Sultan of Sokoto Abubakar Saad and John Cardinal Onaiyekan.
read Bellow the full speech of Mr President at  the  event
May I sincerely thank members of the Interfaith Initiative for Peace, for putting up this Conference as they did prior to the 2015 General Elections that brought in this Administration.
2.      My special thanks to His Eminence Alh. Muhammad Sa'ad Abubakar, the Sultan of Sokoto and His Eminence John Cardinal Onaiyekan, the Catholic Archbishop of Abuja, the Co-Initiators of this group of Nigerians who love their country and have continued to work for peace and peaceful coexistence as faithful Muslims and Christians.
3.      I also wish to express my personal appreciation to the Archbishop of Canterbury, the Most Reverend Justin Welby, who in spite of his busy schedule has accepted to be the keynote speaker at this important conference. We thank you for your love for Nigeria and her people and appreciate all your efforts in informing Britain and other nations about the true state of affairs in Nigeria.
4.      Our Primary Elections are over, it is my hope that all who feel aggrieved would put the stability of our country first before their political ambitions and accept the decision of their political parties or seek resolution through party reconciliation mechanisms or the law courts.
5.      Very soon, political campaigns will commence leading to Elections in February next year. It is my hope and prayer that we will even perform better at the polling stations and see to a peaceful completion of the entire process without resorting to negative use of religion and ethnicity.
6.      Having witnessed the roles our religious leaders have been playing so far, I appeal to them to eschew partisan politics and appeal to their respective members to read the manifestos of each political party, discuss and pray for God's guidance before casting their votes. Religious leaders should not be seen to involve themselves in partisan politics or political controversies. Otherwise they risk losing their status and public respect.
7.      On their part, traditional rulers are also requested to enlighten their subjects, encourage them to ask questions and seek clarifications before going out to vote. As your President, I will request that you encourage your subjects to come out and exercise their voting rights as responsible citizens. To all of us politicians, I ask that we discharge our political responsibilities with integrity, bearing in mind that we will one day give an account to God, the Almighty.
8.      I am proud to say that our country has moved on, the era of free money, lack of transparency and accountability is over! We deserve continuity; we deserve a better future for the coming generations. I sincerely hope 2019 will move us closer to these goals and so I look forward to a peaceful, fair and credible elections come 2019.
9.      Finally, I implore you to continue praying for the country's unity, peace and progress.
Download Naija News App. Advertise with us. Send us enquiries and press releases.