Nigeria Receives 50th Batch Of Libyan Returnees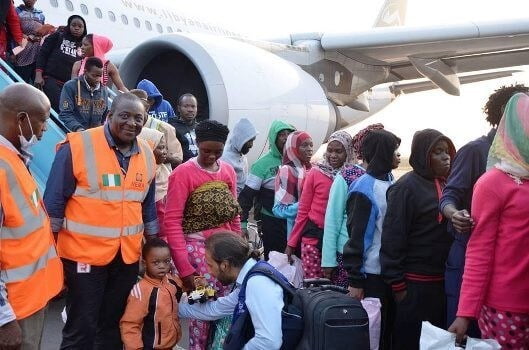 Libya Returnees Aided By IOM Rises To 10,000
The 50th flight of voluntary returnees from Libya has arrived the Murtala Muhammed International Airport (MMIA), Lagos, Lagos State earlier today.
With the arrival of the 50th flight, International Organization for Migration (IOM) has succeeded in helping 10,000 returnees since April, 2017.
Recall that the National Emergency Management Agency (NEMA) and other agencies of the Federal Government received the fresh 161 returnees with nine of them coming with medical cases while 12 are pregnant.
Among them were 147 adults, four children, 10 infants and one unaccompanied seven-year old minor.
Earlier on Tuesday, NEMA had received a batch of 149 returnees making a total 310 returnees brought back in the week.
It was learnt that on Tuesday, a pregnant woman went on labour immediately on arrival at the MMIA cargo wing and she was delivered of a baby boy by the combined team of medical personnel on ground.
The Zonal Coordinator of NEMA, Alh Suleman Yakubu, commended the IOM and other development partners for their humanitarian efforts on the returnees.
Represented by Mr. Segun Afolayan, the Coordinator noted that since the pact with IOM in 2011, the synergy and partnership of UN agency has been smooth.
The Zonal Coordinator appealed to the returnees not to feel ashamed to disclose their health status on arrival in Nigeria.
This, he noted, would help Government to take care of them adequately, adding that information on health status of some of the returnees are only revealed by others who felt it was a national responsibility for them to help the general public.
He also urged the relations and families of the returnees to ensure that all their relations go for full medical examinations as soon as they arrive their homes.