Atiku, PDP Candidates Cannot Stand Integrity Tests -APC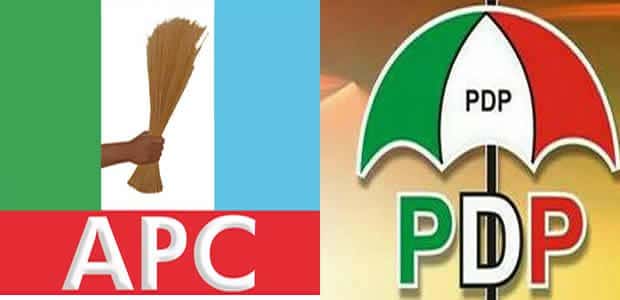 APC Speaks On How PDP Candidates, Atiku Will Be Disqualified From 2019 Elections.
Ahead of the 2019 general election, the All Progressives Congress (APC) has said that the major opposition in the country; the People's Democratic Party (PDP) cannot stand integrity test for candidates.
The party was reacting to a statement credited to the PDP spokesman, Mr. Kola Ologbodiyan accusing officials of the APC administration of 'deliberate efforts impugn on the character' of the PDP Presidential Candidate, Alhaji Atiku Abubakar describe that the assertion is laughable and ironic.
According to a press statement signed by the APC spokesman, Yekini Nabena on Thursday, "The PDP's assertion particularly coming from its spokesperson is ironic and laughable, given the fact that Mr. Kola Ologbondiyan as an editor with one of the national newspapers in fact, unearthed the Special Audit/Forensic Investigation of Petroleum Technology Development Fund (PTDF) which indicted Alhaji Atiku Abubakar, then Vice President, for mismanagement of Fund.
"The PDP spokesperson in his published report disclosed that from 1999 to 2006, Atiku's approval for the release of $20m from the treasury and subsequent placement in Trans International Bank without appropriation and approval by the Federal Executive Council (FEC) was illegal and amounted to abuse of office".
The APC claims there are no lies in this report as Alhaji Atiku grapples with several other corruption indictments saying, "This is a fact and reality he needs to deal with and come clean about.
"The PDP cannot be simplistic and attempt to wish away the issue of the integrity of candidates seeking elections into positions at all levels, particularly as 2019 approaches. We reiterate our position that the Nigerian electorate must have that opportunity to choose from candidates that can pass the integrity and anti-corruption test. The character of office holders we elect into public offices is important as our very progress and development as a country depends on it.
"When the choice is to be made, the electorate has the option of a proven and decent presidential candidate who is putting the people first and on the other hand a racketeer who will readily mortgage the country commonwealth to personal coffers and cronies", the party noted.