APC Chieftains In Akwa Ibom Protest, Want Oshiomhole Removed As Chairman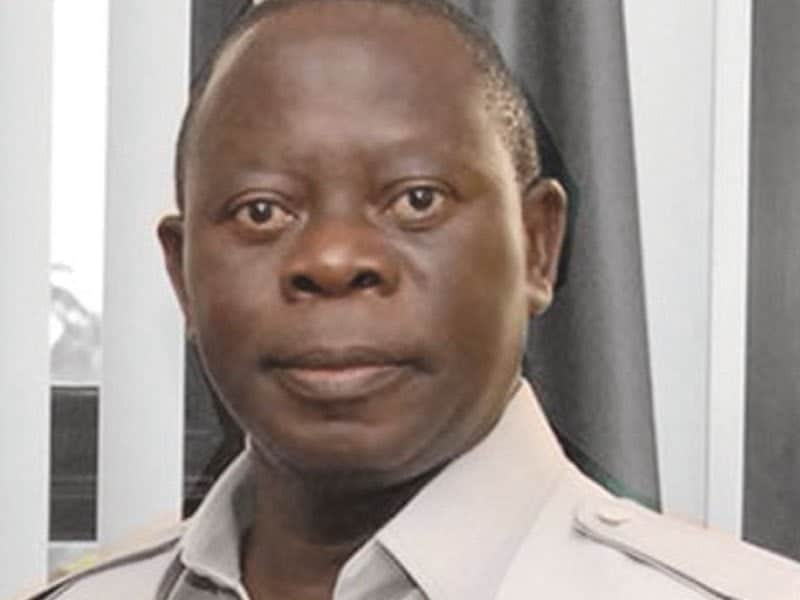 Oshiomhole Will Destroy APC If He Doesn't Resign, Says APC Chieftains In Akwa-Ibom.
Some All Progressives Party (APC) chieftains in Cross River State have called for the resignation of the National Chairman of the party, Comrade Adams Oshiomhole.
The chieftains, who took to the streets of Calabar with placard-carrying supporters to register their protest, expressed displeasure over Oshiomhole's refusal to recognize the Minister of Niger Delta Affairs, Pastor Usani Usani, as the governorship candidate of the party in the state, despite a court order to that effect.
Federal Commissioner of Niger Delta Development Commission (NDDC), Cross River State, Mr Sylvester Nsa, accused the national chairman of impunity, saying if he continues, he would destroy the party.
"The people of APC in Cross River have gone out to protest against impunity, injustice and total and blatant refusal to respect court ruling by the national chairman of APC, Comrade Adams Oshiomole. His attitude in recent times has made us to understand that Oyegun, the former chairman, was a saint and angel. Therefore the people of Cross River State are angry that Oshiomhole has brought impunity in Cross River State and not only in the state, the action of Adams Oshiomhole will destroy APC in Nigeria.
"The people of APC across the country, rise up and tell Oshiomhole that he cannot destroy APC, therefore in Cross River State, Usani is right. Usani is the answer. No Usani no election. We want the whole country to know that Usani built the party. He nurtured the party. He is the leader of the party. He stands to protect the interest of the common men and that is why, the people of APC in Cross River have stood their grounds that without Usani, there is no APC in the state. I stand here as one of the leaders in the party in the state to declare that Adams Oshiomole should be called to order. This is a man that is a beneficiary of court order. He became a governor because of court order and today Oshiomhole does not want to honour court order. Therefore he must be called to order.
"I call on the judiciary to stand up otherwise, the action of Oshiomhole is a total play down on the integrity of the judiciary. It is an insult to the judiciary, it is an insult to democracy, so we call on Oshiomhole to leave Cross River State alone. He must leave us alone, otherwise, he would come to Cross River and walk alone because the people are angry and they have spoken that they want Usani. If it was court that made Oshiomhole a governor, he must respect court order. He is a man of impunity. He should resign otherwise if he continues, he will destroy this party," Nsa said.
On his part, the Director-General of the Usani Campaign Organization, Pastor Ekpenyong Cobham, said, "This march is a clear message to the leader of this party, which is the President, that Oshiomole is toying with the election of the President. He is toying with the soul of APC. We will not accept impunity. Oshiomhle is not above the law. He must act within the confines of the law. If he does not do that, then we would revolt. This impunity must stop. Nigeria is a democratic nation and we expect him to function within the pressings of the law. That is our position. We cannot be subverted on intimidated. We stand resolute behind Pastor Usani Uguru Usani. He is the leader of our party. He is the governorship candidate of our party and the man who has built this party.
"Some people have been sent on secondment from the other side to come and hijack this party. We would not allow that. They were part of the destruction of Cross River State for 20 years and now they are coming here to tell us they believe in the change. They are not part of the change. They have no change to offer us. They are here on secondment. We don't want them. They are not our candidate, we didn't vote for them. Let them return to where they came from. In APC we work for change and Oshiomhole must work within the confines of that change. If peaceful protest is being resisted, we would rise up. Cross River State belongs to us. Let him respect the law. We need change in the state and the only man who can offer that change is Pastor Usani. He personifies light. Darkness cannot dethrone darkness. Oshiomhole must leave Cross River alone. That is what we are saying and what we stand for."
Copyright Naija News 2019.
All rights reserved. You may only share Naija News content using our sharing buttons. Send all news and press releases to
newsroom@naijanews.com
.