Okorocha Loses As Court Affirms Hope Uzodinma As Imo APC Governorship Candidate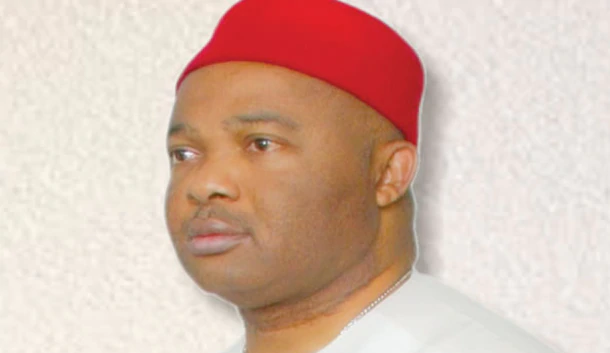 Justice O. A Musa of the Federal High Court, Abuja on Wednesday declared Senator Hope Uzodinma as the authentic governorship candidate of the All Progressives Congress (APC) in Imo state for the 2019 election.
Justice Musa ordered the Independent National Electoral Commission (INEC) to recognize only Uzodinma as Imo state gubernatorial candidate in the 2019 election.
The judge restrained INEC (2nd Respondent) in the case from processing or publishing the "name of any other person other than Senator Hope Uzodimma from the All Progressives Congress (APC) as the gubernatorial candidate for Imo State Governorship election for 2019" pending the determination of the substantive suit on the matter.
Uzodimma through his lawyer, Joe Agi (SAN) had approached the court seeking an order to restrain the All Progressives Congress (APC) from conducting a fresh or re-conducting another primary for the Imo State Gubernatorial primaries and INEC from monitoring or purporting to monitor any fresh primaries or re-conducted primaries by the APC in Imo State Gubernatorial Election pending the hearing and determination of the motion on notice before the Court.
Other reliefs sought by Senator Hope Uzodimma include:
An order directing the APC to forward his name (Uzodimma) to INEC as the Gubernatorial Candidate for Imo State Governorship Election for 2019.
An order restraining INEC from continuing to process or publish any other person's name except the name Senator Hope Uzodimma; and an order for accelerated hearing on the matter.
In his affidavit in support of the motion exparte, the claimant (Uzodimma) averred that he was declared the winner of the Imo State APC gubernatorial primaries which were conducted on October 1, 2018, but shortly after he was declared the winner, "the National Chairman of the APC issued a press statement on the 3rd October 2018 purporting to cancel the primaries and re-conducting a fresh one."
He added that none of the contestants in the election protested the result as declared by the returning officer "but rather six out of the nine contestants (Aspirants) confirmed that the primaries held and were free and fair."
The Plaintiff noted in its affidavit that noted that the electoral guidelines do not give the National Chairman of the APC or the National Working Committee (NWC) to interfere with the electoral process; and that "out of the nine contestants (Aspirants) six agreed that there was an election and I (Uzodimma) won."
He further averred that in the absence of an appeal, no organ of the party can cancel the result of primaries. He said failure of the Court to grant the order, "irreparable damage will be done to me."
The Court has fixed October 16, 2018, for definite hearing of the matter.
It would be recalled that five of the governorship aspirants declared support for Senator Hope Uzodinma as winner of the Imo State governorship primaries conducted on Oct. 1 by the Ahmed Gulak Election Committee.