Chimamanda Adichie Presented With Leadership Award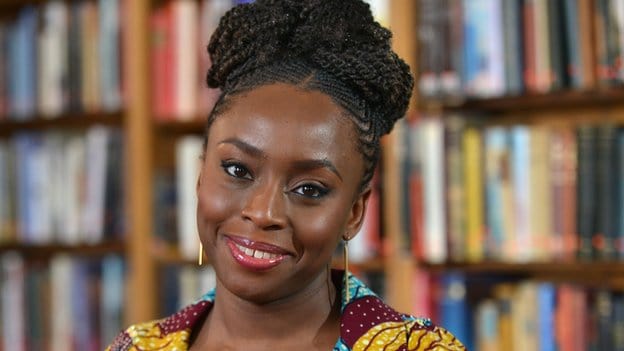 The Global Hope Coalition has honoured Chimamanda Adichie with the Special Distinction for Thought Leadership award.
The coalition revealed this in a statement that was issued on Monday. According to the statement, the award-winning author was honoured during the GHC's 2018 Annual Awards Dinner in New York, United States last Thursday.
Chimamanda, was recognised for the impact of her work in shaping global conversations bordering on feminism, race, and North/South relations.
Award winning producer and philanthropist Ms. Francine Lefrak alongside CNN Lead Political Anchor, Wolf Blitzer presented the award to the writer.
About 500 guests attended the event. Five individuals from Tunisia, Denmark, France, Sudan, and Mali were recognized as 2018 Heroes of the Global Campaign Against Extremism and Intolerance.
The 2018 dinner served as a special tribute to leaders and organizations that have reacted with compassion and dignity to refugee crises in different parts of the world.
Special Distinctions for Leadership were presented to President Mahamadou Issoufou of Niger, President Beji Caid-Essebsi of Tunisia, Prime Minister of Bangladesh, Sheikh Hasina and President Alexis Tsipras of Greece.
In addition to Ms. Adichie's award, individual awards were presented to a member of the Lebanese parliament, Fouad Makhzoumi, the International Rescue Committee / Sesame Workshop and leading Turkish philanthropist, Ms DemetSabancı Çetindoğan.