You Are Not Welcome To our Party – Ekiti APC Tells Fayose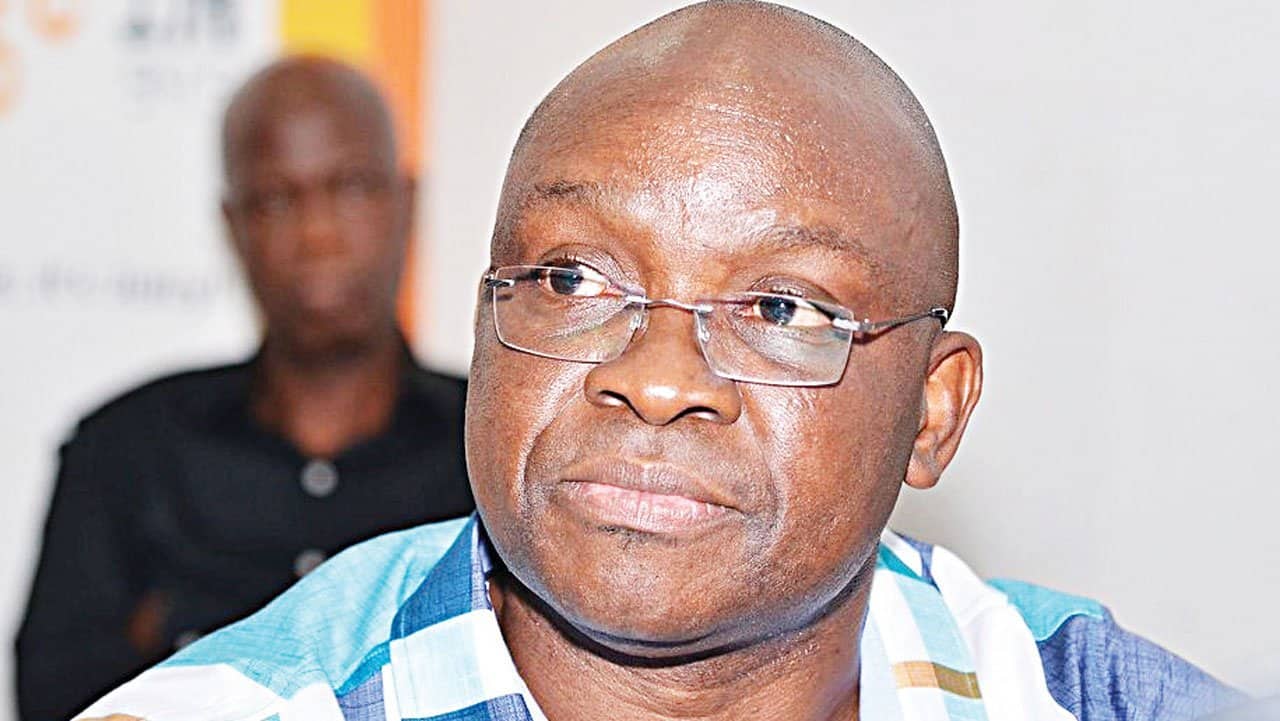 The Ekiti State chapter of the All Progressive Congress (APC) has said that Governor Ayodele Fayose is not welcome to its fold, after the governor threatened to leave his Party, People's Democratic Party (PDP).
Mr. Paul Omotoso, the state chairman of the party, said that the outgoing governor is not welcome to the party.
Fayose on Monday threatened to leave the PDP following the victory of Former Vice President, Atiku Abubakar as the presidential flagbearer ahead of his favourite, Sokoto governor, Aminu Tambuwal.
The state Publicity Secretary of the party, Mr. Ade Ajayi, in a statement, said the party leaders advised the outgoing governor to conclude his court cases bordering on sundry alleged crimes before contemplating to join APC.
"We want to prove to the world that APC will not provide sanctuary for criminal suspects, political prostitutes and lepers. We will never admit such character to this party and we advise Fayose to play his politics of destruction somewhere else.
"Fayose's criminal prosecution on 2005 poultry project fraud resumes on November 4, 2018. Fayose cannot turn Ekiti APC to a haven and sanctuary for criminal suspects and we advise him to forget any plan to smear Ekiti APC with criminal records." 
"Fayose over the years abused, disrespected and openly denigrated President Muhammadu Buhari, the leader of our party who is also the President and Commander-in-Chief of the Nigerian Armed Forces.
"Fayose is coming to destroy our party and ensure President Buhari does not get a second term in 2019 and we won't allow Fayose's evil plan to materialise". he said.
Omotoso stated that the APC will not admit the governor and allowing him destroy the party just as he destroyed three others parties because of his quest to be in control.
"Fayose said many times that he would destroy APC. He destroyed Labour Party (LP), All Nigeria People's Party (ANPP) People's Progressive Alliance (PPA) and at a time he also destroyed PDP before his current activities that led to the present sorry state of PDP in Ekiti State.
"APC is looking for builders and not destroyers in its fold. We will not accept this destroyer in our great party APC and we advise Fayose to look elsewhere towards his promoters outside the state so that he can destroy the cohesion of the party in the backyards of those promoters."
"We hereby state clearly that no ward chairman must open talks with Fayose until such ward chairman clears with the party leadership at the state level." he added.