Buhari Administration Expended N1.7trillion On Infrastructure In 2 years – Osinbajo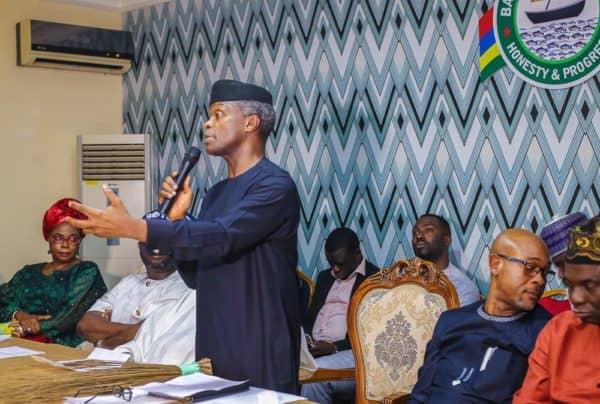 Vice President Yemi Osinbajo has said that the Federal government has expended 1.7 trillion in capital investment in two fiscal years.
The Vice President made this claim while addressing participants at the 9th Presidential Quarterly Business Forum held at the State House Banquet Hall on Monday in Abuja.
The vice president said that infrastructure development was important to economic growth and job creation.
He commended the commitment of the participants in extending the efforts being made by the Industrial Training Fund(ITF) and the Nigeria Employers' Consultative Association (NECA) on skills acquisition.
"These must take into account the need to provide real value to the private sector through the ITF scheme and where necessary, develop optimal incentives to support the private sector.
"It will also be important that we commit to constituting sector skills councils and encourage the development of these councils for various sectors, especially in sectors we have identified as being of priority for job creation.
"I am convinced that we can crack the jobs problem and we are in the right direction.
" First, by Investing in infrastructure; we are investing more in infrastructure today than any previous governments in our history.
"We have spent so far in two budgets, N1.7 trillion in capital investment – that is the largest in the history of the country despite earning 60 per cent less; we are doing far more with far less resources,'' he said.
Osinbajo revealed further that the Federal government is doing all it can to improve the power situation of the country.
With the view of enhancing the capacity of business people by boosting power supply, Osinbajo stated that the federal government was making plans to review the previous power privatization.
He added that Job creation had been a priority of President Muhammadu Buhari-led administration.
He said further that the surest way of creating jobs was by enabling the private sector to do business easily.
"Opportunities are created in agriculture and the agro-allied industry, services, manufacturing, among others.
"But we realised that that would not solve the immediate problems of thousands of graduates who have no jobs or the millions who are at the bottom of the trading pyramid barely eking out a living.
"This, we believed created a compelling argument for direct intervention by government,'' he said.