PDP Presidential Primaries Election (Updates, Results and Situation Report)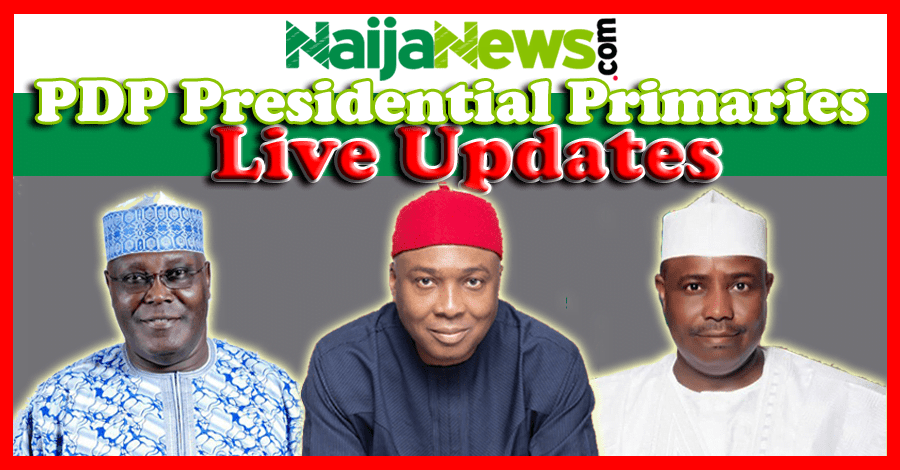 The 2019 presidential election is fast approaching and political parties across Nigeria are already declaring their flag-bearers for the race.
The Peoples Democratic Party (PDP) convention and primaries is holding between Saturday 6th and Sunday 7th October, 2018 in Port Harcourt, Rivers state. The PDP Convention will end months of speculation about who's to be the flag-bearer.
PDP delegates would have to choose its presidential candidate from a list of 12 presidential aspirants. The contender for PDP presidential ticket are; Atiku Abubakar, Bukola Saraki, Aminu Tambuwal, Rabiu Musa Kwankwaso, Sule Lamido, Ibrahim Dankwambo, Kabiru Turaki, Attahiru Bafarawa, Datti Baba-Ahmed, Ahmed Makarfi, Jonah Jang And David Mark.
Naija News is live on ground to keep you informed about all the details of the primaries.
Keep refreshing your browser for the latest updates.
---
Results
Atiku Abubakar:
Tambuwal out of PDP presidential primary race Atiku has 700 votes and still counting
Aminu Tambuwal: 693
Ahmed Makarfi: 74
Rabiu Kwankwaso: 158
Attahiru Bafarawa: 48
Ibrahim Dankwambo: 111
Kabiru Turaki: 65
Sule Lamido: 96
David Mark: 35
Void votes: 68
Jonah Jang: 19
Baba-Ahmed: 05
6:40 AM -The party agents (standing) are collecting the ballot papers of their respective aspirants.
6:37 AM – Okowa explained that while each of the 12 aspirants would have a box for his votes, the 13th would be used for void votes.
6:23 AM – Preparations are made for sorting of votes. The officials have mounted the podium with 13 ballot boxes
6:10 AM – The agents of the 12 aspirants have been asked to move forward.
6:00 AM – Okowa announces that voting is over and he thanks the delegates.
We have just concluded the process of voting and we thank all our delegates, now we are going to proceed to the stage of sorting and counting. #PDPConventionPHC@OfficialPDPNig

— Dr. Ifeanyi Arthur Okowa (@IAOkowa) October 7, 2018
3:04 AM– Voting starts
12:00 AM – Voting is about to start. Okowa is reading out directives It is going to be secret ballot
Voting will be done in two groups
Group A
Abia
Adamawa
Akwa-Ibom
Anambra
Bauchi
Bayelsa
Benue
Borno
Cross River
Delta
Ebonyi
Enugu
Ekiti
Gombe
Kaduna
Kano
Imo
GROUP B
Jigawa
Katsina
Kebbi
Kogi
Kwara
Lagos
Nassarawa
Niger
Ogun
Ondo
Osun
Oyo
Plateau
Rivers
Sokoto
Taraba
Yobe
Zamfara
11:51 PM – Former President Goodluck Jonathan is now on the podium. Jonathan says the PDP now has the senate president and speakership positions and more governors. Adds that this is an indication that the PDP is back and ready to unseat APC at the center.
At Nigeria's last nationwide vote in 2015, the People's Democratic Party (PDP) of then-president Goodluck Jonathan, pictured in May 2015, charged 22 million naira per nomination form
At Nigeria's last nationwide vote in 2015, the People's Democratic Party (PDP) of then-president Goodluck Jonathan, pictured in May 2015, charged 22 million naira per nomination form (Nigeria News/File)
11:46 PM – Ekweremadu is actually singing! And we have to say singing is really not his thing.
11:39PM – Some observation here won't hurt. There's alway a crowd of supporters accompanying and hailing the aspirant who has just been called to the podium. Alright, the election proper is just about to begin. And we are having some music as well during the interlude. Did we mention that Deputy Senate President Ike Ekweremadu is now speaking? Ok, now we have.
11:30 PM – It's Tanimu Turaki's turn to speak. He is a former minister who ran for the office of Kebbi governor three times. He's the last aspirant to speak tonight.
11:22 PM – Tambuwal mounts the podium. Tambuwal says he will unite the country and that he is one aspirant that can be trusted. Recall that each aspirant is given 3 minutes to make a case for himself. Tambuwal says if he doesn't get the ticket, he'll get behind the eventual winner.
11:20 PM – David Mark and Saraki make their speeches. Saraki says a vote for him is a vote for the youth. Mark says in the event that he doesn't win, he'll support whoever wins.
Saraki says:"We must move away from the past. We cannot vote on sentiment. We must vote for somebody who is capable and someone with a proven track-record of performance.
"If you are looking for a courageous leader, who will lead from the front and unite this nation, I urge our delegates to vote for me in the hours ahead".
11:16 PM – Former PDP caretaker committee chairman, Ahmed Makarfi speaks, promises to address security challenges in the country.
11:00 PM – Former Jigawa state Gov, Sule Lamido urges delegates to vote their conscience.
10:56 PM – Sokoto Gov, Rabiu Kwankwaso speaks, promises to reform the police force and other agencies.
10:52 PM – Attahiru Bafarawa speaks, promises to support whoever emerges as PDP presidential candidate.
10:49 PM – Ex-VP, Atiku Abubakar addresses delegates, promises to create jobs and bring wealth to Nigeria.
10:17 PM – Convention Chairman, Yakubu Dogara addresses delegates.
10:15 PM – Ekiti state Governor, Ayo Fayose arrives.
10:06 PM – PDP Presidential aspirant, Hassan Ibrahim Dankwambo arrives.
10:01 PM – PDP Chairman, Uche Secondus declares the PDP convention open.
9:41 PM – PDP Chairman, Uche Secondus delivering opening speech.
Former Vice-President, Atiku Abubakar arrives the convention venue.
9:23 PM – Bauchi delegates arrive.
8:52 PM – Delegates recite national anthem, as convention proceedings are about to start.
PDP Presidential aspirants will address delegates in the following order:
1. Atiku Abubakar
2. Datti Baba-Ahmed
3. Attahiru Bafarawa
4. Ibrahim Dankwambo
5. Jonah Jang
6. Rabi Kwankwaso
7. Sule Lamido
8. Ahmed Makarfi
9. David Mark
10. Bukola Saraki
11. Aminu Tambuwal
12. Kabiru Turaki
8:19 PM – Ekiti state delegates arrive.
Governor Samuel Ortom of Benue state spotted at the convention grounds.
8:01 PM – Sokoto Gov, Aminu Waziri Tambuwal arrives Adokiye Amiesimaka Stadium.
7:29 PM – According to SaharaReporters, Davido performs at the PDP presidential primary.
5:40 PM – Femi Fani-Kayode, arrives the convention ground.
4:43 PM –  Tanimu Turaki, has asked PDP delegates to vote for Bukola Saraki.
3:30 PM – Ifeanyi Okowa, Governor of Delta State and Chairman, PDP National Convention Planning Committee said that late arrival of delegates delayed the take-off of the convention.
1:47 PM – Heavy presence of security men reported at Adokiye Amiesimaka Stadium, venue of the PDP presidential primaries.
12:20 PM – Presidential aspirants currently holding a meeting
11:00 AM – journalists given access to  the venue of Peoples Democratic Party, PDP presidential primary.
11:32 AM – PDP delegates from Imo and Anambra states gathering to speak with Saraki
11:00 AM – Saraki, Obi holds crucial meeting ahead of the today's convention
9:47 AM -Governor Wike claims APC is planning to disrupt PDP presidential primaries
7:40 AM – Accreditation of delegates begins
6:00 AM – Wike assures PDP delegates of adequate security.