Osun Election: Police Teargas PDP Leaders Protesting At INEC Headquaters
Peoples' Democratic Party (PDP), on Friday staged a protest to the Headquarters of the Independent National Electoral Committee (INEC), Abuja, to demand for free, fair and credible elections in 2019.
The protest led by the party National Chairman, Prince Uche Secondus, also demanded that PDP candidate in Osun governorship election be declared winner of the election.
Secondus said all that the PDP wanted was free and fair elections.
He urged INEC not to set the country apart with incredible elections, saying "the least we are expecting from you is to conduct free and fair elections."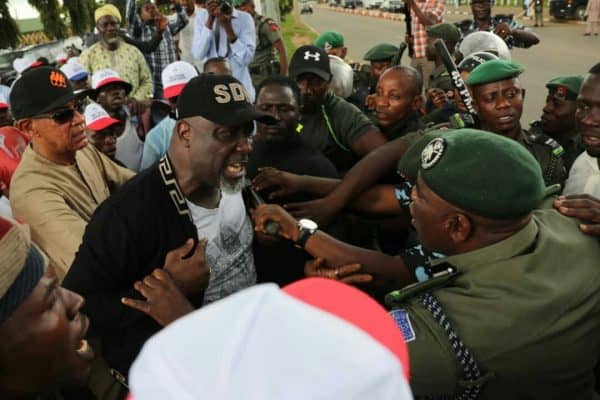 He also demanded for the resignation of the INEC Chairman, Mahmood Yakubu and the National Commissioner INEC in-Charge of Operations.
The Senate President, Dr Bukola Saraki advised INEC to be courageous and stand for the truth and not an individuals or party.
Saraki said that PDP was not demanding any favour from INEC, but free and fair elections.
"Be courageous and bold to stand for the truth because tomorrow history will judge you. We stand here to say we don't want favours, just give us free and fair election.
"Let me warn you INEC, Nigerians will not take elections that are not credible. Stand with Nigerians because you represent us, stand and be impartial because you are an independent commission.
"We are here to demand that you do the right thing, free and fair elections 2019 for the unity and peace of this country," Saraki said.
The Governor of Ekiti and the Chairman, PDP Governors Forum, Ayodele Fayose, said that rigging would not work in 2019, urging INEC not to take away the rights of Nigerians, saying that Nigeria belonged to all Nigerians.
"The damage done to our democracy and by extension the common man is enough.
If the people cannot choose their leader anymore, then we are in trouble.
"We are not asking for favours, this country and this INEC belong to Nigerians and Nigerians must be respected by allowing them to make a choice," Fayose said.
The Sokoto State Governor, Aminu Tambuwal urged INEC Chairman to do the right thing to protect his good records.
"I believe that as Chairman of INEC before this temporary assignment, you have a history and you have a record. Don't allow anybody no matter how highly placed to use you to undermine the wills of Nigerians.
"You cannot suppress us, you cannot intimidate us. Elections in Nigeria must be held freely and fairly, and whoever wins should be given the mandate. That is what we want and we shall take nothing less," Tambuwal said.
Also speaking, Sen. Dino Melaye, representing Kogi West said they were at the commission to remind INEC that it was for all Nigerians and all political parties.
Dino added that PDP, as a responsible party, had agreed to do everything within the ambit of law under peaceful presentation to reclaim its every stolen mandate.
"The electoral impunity, the political acrobatism, the embarrassment and intimidation of opposition in Nigeria is enough."
INEC National Commissioner in-charge of Legal Services, Mrs May Agbamuche-Mbu, responding on behalf of INEC, commended the party leaders and protesters for the peaceful demonstration.
Agbamuche-Mbu said that the Commission took the protest serious and all their requests noted.
"INEC is up to this job, we are all here in INEC as professionals and not politicians. We are going to do our best come 2019.
"I must say we are a team and decisions are made by the commission and not by any individual.
"All your comments have been noted and it will be passed to the chairman and the entire commission," Agbamuche-Mbu.
The News Agency of Nigeria (NAN) reports that the protesters thereafter left INEC for the Nigeria police headquarters, where they were denied access and tear gassed.
Others at the protest were some PDP presidential aspirants and members of the party National Working Committee.