Oshiomhole Speaks On Conducting Free And Fair Governorship Primaries In Imo And Zamfara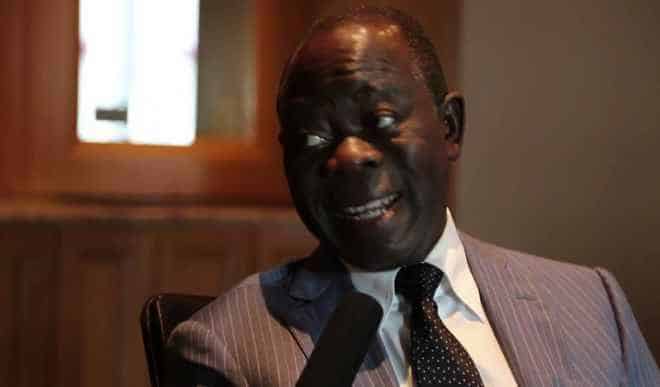 The national chairman of the All Progressives Congress (APC), Adams Oshiomhole, has promised  that the National Working Committee of the party will work on setting up electoral panels for the conduct of governorship primaries in Imo State and Zamfara State.
Naija News understands that Oshiomole who said this at the party's campaign office in Abuja today, stated the new committee will have credible members who will not be compromised.
"We are going to conduct free, fair primary in Zamfara. This process has to be done according to the rules and regulations of the APC and that means it will be done by the Electoral body and not by the state government or agents of the state government.''

Comrade Adams Oshiomole

— ??♥★muhammad Nurah☆♥?? (@MD_Nurah_Esq) October 5, 2018
It will be recalled that Naija News had earlier reported that the Imo State primaries were suspended indefinitely by the party following the controversy that surrounded the process and the committee in charge of the election.
"In Imo State we are setting up a committee that will be manned by men and women who cannot be compromised in the light of what happened the other day and they will conduct transparent primaries.
"For me and for the NWC what matters in this process is not who wins, what matters in this process is the integrity of the process. Once the integrity of the process can be guaranteed, whoever win, wins," he said.
#LatestNews: APC to set up new committees to conduct primaries in Imo, Zamfara – Oshiomhole

"For me and for the NWC what matters in this process is not who wins, what matters in this process is the integrity of the process."

The post APC to set up new committees to conduct…

— Diamond Report (@diamondnewsngr) October 5, 2018
He said he recognizes the tension generated by the suspended primaries, saying he believes it is because for too long Nigerians were used to the game of power and the use of delegates.
In Zamfara State where the party cancelled the governorship primary due to violence, the chairman said it is sad some people chose violence but he is glad the committee which was sent has explained itself.
"We have reports from Zamfara State which shows that elections were botched because the process of the election was hijacked, materials were snatched and result taken to unauthorised places. And the panel which we sent headed by an associate professor, Abubakar Faki, and all the members have come to explain to us in unity what happened. It's unfortunate that many people chose to opt for violence, but I am happy that the panel stood their grounds and refused to compromise even in the face of intimidation and we are going to have to conduct a free, fair primaries in Zamfara.
Download Naija News App. Advertise with us. Send us enquiries and press releases.