Nigerian Customs Intercepted Military Uniforms, Bulletproof Cars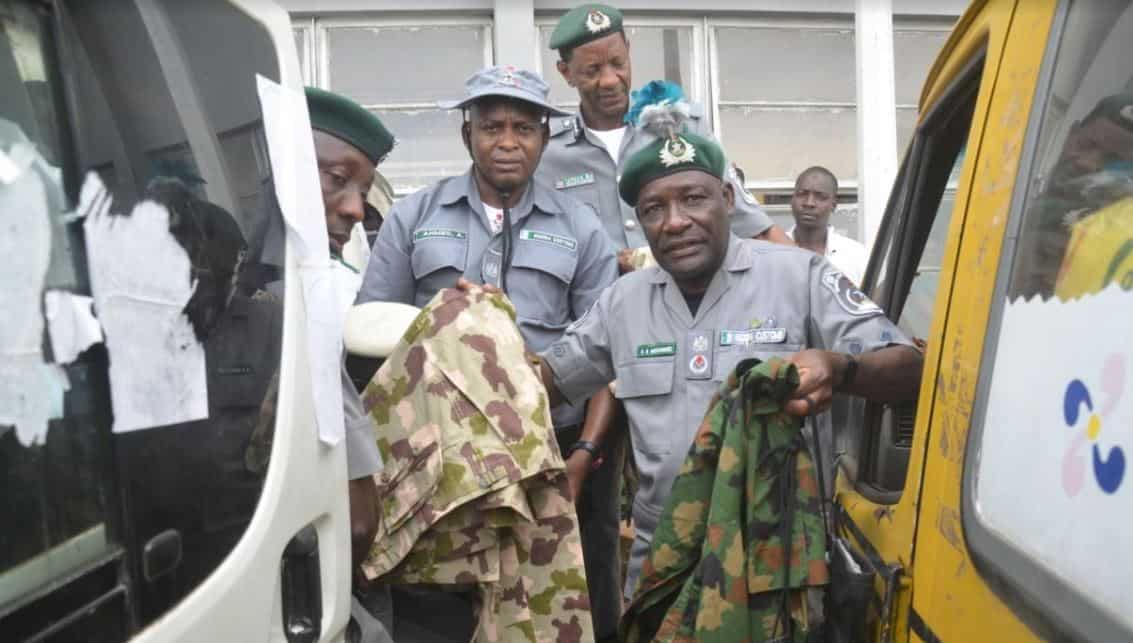 A bus containing two big sacks of military uniforms and boots along the Ijebu-Ode expressway, has been intercepted by the Nigeria Customs Federal Operations Unit, Zone 'A'
The white Hiace bus which belongs to Chimezie Motors Nigeria Limited with registration number JJT 905 XB, was intercepted on Wednesday.
"This is national security. Though they are not much but the damage that will be done will be much, that is why we seized them," Mohammed Aliyu, the unit boss, told journalists in Lagos Thursday.
Aliyu further revealed that the unit also seized 22 cars, including nine bulletproof cars.
He revealed that cars worth about N1.2 billion, were seized inside a bush in Idiroko axis of Ogun State while others were kept in hidden warehouses in Lagos.
"This is the second time I will be briefing the press since I was here. The first time, I told you how we seized contraband goods worth N1.5 billion within 2 weeks in office.
"Now, we have seized 22 cars which nine are bulletproof worth about N9.27million while other non-bulletproof worth N2.4 million."
He said his officers intercepted 11,000 bags of 50 kilogrammes rice barely one month after it seized 3,000 bags.
"We seize bags of rice on daily basis. If you wait a bit, you will see my officers bring in seized bags of rice. Most times. They come in convoy and immediately they see our officers, some will escape while others arrested."
Other seizures made include 25 litres of vegetable oil and 245 parcels of India hemp worth N19 million.
"We don't have any arrested suspects. They ran away. If you are in the bush, they always come in twos-they and passenger", he said.
"Immediately you flag them, they will know they are in danger. They will abandon the vehicle and run away. That is why we did not (make) any arrest."