Nigerian Army And Jos Pond Killings: Law, Not Self-Help Must Prevail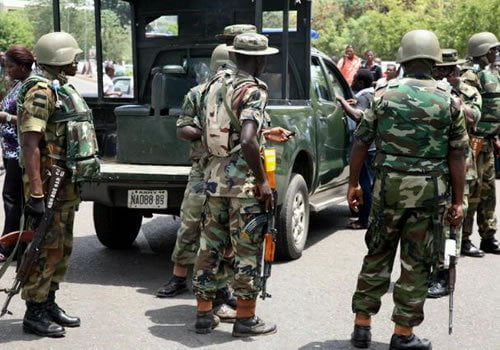 If we are to go by Nigeria Army's precedence in Odi and Zaki Biam, then one would not need a seer to predict that Lafendeg Du and the entire Doi Du community in Du District of Jos South local government area of Plateau State are in big trouble especially with the deployment of soldiers and arrests made so far while searching for the body of late Major General IM Alkali whose car, and many others, were discovered in a pond there.
His body remains unaccounted despite pleas by the army and well-meaning Nigerians for information or leaks that may unravel the horrendous act.
Hear what Operation Safe Haven Commander, Major-General Augustine Agundu, said on Wednesday as quoted by Daily Trust newspaper:
"It is evident that there exist(s) armed ethnic militia groups sponsored or supported by some elite and elders who deploy the misguided youths into committing the worst heinous crimes.
"There is certainly no constitutional provision that allows civilians to bear fire arms but their possession has become a well sort-out vocation here on the Plateau."
If those who should know in the affected communities do not know, this is already a clear warning signal that the military, this time around, means business and is set to flush out the area for suspected criminals and ethnic militias.
One can only advise the Nigeria Army to strictly follow its operational orders and human rights guideline on the battlefield by ensuring that the appropriate civilian authorities are allowed to perform their roles side-by-side in ensuring that the perpetrators of the dastardly act receive their commensurate punishment.
The army owe us a duty to act in such a way that even the international community will commend its professionalism. While most Nigerians are in agreement on the need for the evildoers to be subdued immediately, there should be no display of raw power. We don't want the birth of another terrorist group. The militias responsible for such salient killings must be separated from innocent children, women and even men before the right action is taken.
All right-thinking Nigerians irrespective of ethnicity and religion must rise to condemn the silent killing of fellow citizens on the Plateau, no matter who the victims are, where they come from or reason for the killings. A human being is a human being first before any other label of tribe, religion and profession. The wicked must not go unpunished!
My condolences to the family of General Alkali and all those who are accounted or unaccounted for in these unwarranted attacks and killings on innocent communities or travellers.
The Nigerian and Plateau State governments need to invest more in peaceful reconciliation in that state as we struggle to unlock the truth on what happened to the revered general who did not lose his life at the warfront but to some self-appointed zombies who do not know the worth of such a military bulwark to the army and Nigeria as a country.
Enough of the bloodshed!
A journalist, Sumner Shagari Sambo writes from Nigeria's capital, Abuja.