Buratai Parades 27 Culprits Over Jos Crisis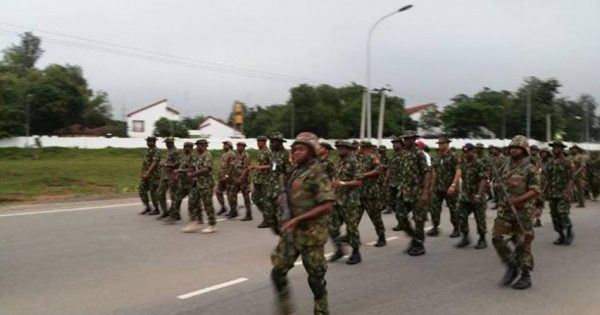 Buratai Parades 27 Culprits Out Of 72 Arrested In Connection With Soldiers Killing
Chief of Army Staff (COAS), Lt.-Gen. Tukur Yusuf Buratai, on Wednesday, at the OPSH headquarters, Gen. Agundu disclosed, paraded 27 persons including two women allegedly arrested in connection with the recent violence in Jos, Plateau state.
Naija News had learnt and reported that 200 residents were arrested in connection with the violence as at yesterday morning. However Buratai who was represented by the Commander, Special Task Force (STF) (code named Operation SAFE HAVEN (OPSH), Maj.-Gen. Augustine Agundu stated that 72 persons were arrested, after which investigations brought 30 to confess their roles in the crime.
He warned that it would no longer tolerate any further attempt to attack the troops.
Gen. Agundu, in his capacity as Commander of OPSH, also condemned what he described as the conspiracy of silence among the elders and elite going on in the state.
"But they keep quiet. If they want to stop this act of violence and criminality, they can do so within a twinkle of an eye."
He also dismissed what he described as 'media hype' about fake soldiers, saying there is no fake soldier going from door to door. "The dexterity my men exhibited was what marveled the criminals."
He, however, admitted that there were some criminals in black attires perpetrating violence that have been arrested as you can see them here, but they are not soldiers.
Earlier Gen. Agundu had  been at the burial ceremony of the three soldiers that were recently brutally killed in Barkin Ladi area of the state on September 6, 2018.
Source: Naija News