Tomiwa Edun Shares His Experience In Merlin Movie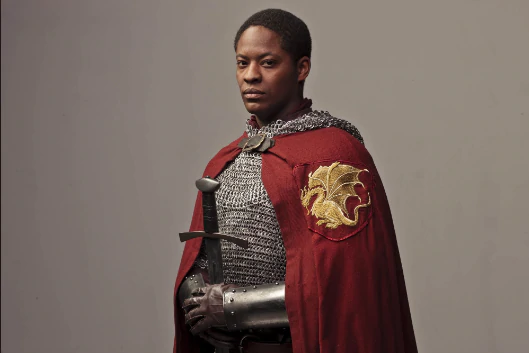 Nigerian born American Actor, Tomiwa Edun, who starred in Seasons 3, 4 and 5 of Popular series 'Merlin' has shared his experience on the movie set.
Tomiwa, who played the role of Sir Elyan in Merlin, in an interview with Pulse, narrated his journey into global acceptance.
The actor spoke on how he had studied at the Royal Academy of Dramatic Art and performed in several theatres where he also made history as only the second black actor to play Romeo at the Globe Theatre when he was cast in Dominic Dromgoole's production of 'Romeo and Juliet.'
Tomiwa revealed that he has also starred alongside Nicolas Cage in 'Dying of the Light,' and Alex Hunter in the football video games FIFA 17, FIFA 18 and FIFA 19.
Tomiwa narrated how his performances in theatres had spurred his success in movies saying he grew his skill sets.
"Obviously, any of the creative market is difficult to get into or make a name but I started on the stage in London because that is one of the best places to horn the theatre craft. But acting, I studied in Royal Academy of Dramatic Art and I got my first major role of playing Romeo in the UK. Then I moved into TV and did Merlin for few years again growing my experience, my skill sets and making great friends and fans along the way – Merlin fans are a loyal and bunch – and I have built up a team to help support and grow the career and part of that has been looking for partners and team mates in Nigeria and that was how my involvement in Banana Island Ghost came along. In Nigeria, we have so many great untold stories that haven't been shared widely and I would like to get them out and also to change the narratives about Africa in the world. There is a very narrow spectrum of stories that gets told about our own, I'm desperate to share with people a much broader story because there are story tellers here."
What I benefited acting Sir Elyan in 'Merlin'
The actor couldn't hide his joy when he spoke about what his role as Sir Elyan in 'Merlin' gave him as an actor. he said, "It gave me my first experience of being in a series, week in, week out, grind and grilling shooting, getting up at the top of dawn and getting late to bed and having to find a way of being perpetually ready. I think that is about the hardest thing of being ready to deliver at the highest level. So, that was a very good experience in terms of building strength, stamina and I also made some very good friends and I learnt a lot about the technical side of the business as well. It was a valid experience and I had a lot of fun."
On how he coped with the fame that followed acting in 'Merlin'
Tomiwa said, "You know I would say initially, it is very surprising when you are going about your daily routine and somebody approaches you and is like he knows you and it used to catch me off guard, it still does but not as much as before but I'm better hiding it now but it's a huge compliment that people bother to tell you what they feel about your work and they take out time to compliment you."
When asked if he would choose acting in movies over acting in theatres, Tomiwa insisted he would rather stick to the two.
"That completely depends on the project. Look, the thing about theatre is that it is a very direct, immediate project. It's the place we get closest to sharing experience of what it is to be us because I can never be inside you, same with you but it's in this dialogue that we can create what it means to be human. So, I love the immediacy because the feedback is direct and it can be terrible but you still have to engage and see it to the end. Every night you get to start the story from the beginning and see it to the end. In film, I would say it's more about catching moments of truth and sincerity and feeling and assembling it. It's just a different technical process and gives you different opportunities for the imagination to play in a different canvass so I guess, I love both, I like to keep both up."
Having worked with notable Nigerian actors like Damilola Adegbite, Saidi Balogun, Ali Nuhu on the set of Banana Island Ghost, Tomiwa says it was a fantastic experience.
He said, "It's fantastic working with established acts here in Nigeria. Like I said earlier, we have so much talent here and it's a privilege meeting some of these artists, to share the screen with these established acts, who have been here, doing it big."
Source: Naija News