Lagos Governorship Primaries: What Is Happening Is A Reflection Of The Peoples' Will – Tinubu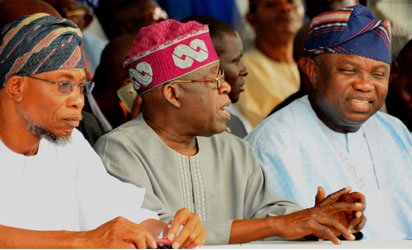 Tinubu Speaks On Lagos APC Governorship Primaries
The national leader of the All Progressives Congress, Asiwaju Bola Ahmed Tinubu, has spoken on the on-going governorship primaries in Lagos state.
Tinubu, in an interview with TVC in Ikeja, also described as an insult, the reports of fights between himself and the Lagos state governor, Akinwunmi Ambode.
"It is a democracy day for us. Elections are supposed to be a celebration of democracy for us. And we are proud to face the world and Nigerians that we are democrat because democracy is present in us. What an open election means is an elimination of corruption in the delegate system."
It is even beyond me as a leader. Whatever is happening now I have to submit myself to the party members. People want to participate in what is happening and we have to let that happen"
Tinubu in his reaction, also said he has no reason to fight Ambode.
"The governor! Rancour between us! No!. I will regard that as an insult. I brought Ambode to the people, he was a civil servant under me. He performed very well as a civil servant. And when he showed interest in politics after leadership courses in Harvard and others we gave him the opportunity and we presented him to the party and the party accepted him.
"So, if the party now says they want either a change or they want to reaffirm his governorship through an open system, we have to abide that. If they elect him today, so be it. You see, you will remain relevant as a leader if you once in a while submit yourself to what the people want. We can't call ourselves democrats if we don't respect the will of the people," Tinubu said.