After several days of waiting, the much awaited Lagos APC governorship primaries is holding today, Tuesday 2nd October, 2018.
The contest is expected to be a keen battle between incumbent Lagos state governor, Akinwunmi Ambode and Babajide Sanwo-Olu who is widely reported to enjoy the backing of the national leader of the APC, Asiwaju Bola Tinubu.
Naija News is on ground to give you live updates all through the primary election, keep refreshing this page for the latest update.
Lagos APC has declared Babajide Sanwo-olu as the winner of the party's primary conducted on Tuesday.
According to the party, Sanwo-Olu polled 970,851 votes, while incumbent governor Akinwunmi Ambode got 72,901 votes.
The panel chairman of the Lagos APC primaries, Clement Ebri in a press conference on Wednesday, has also confirmed the results as declared by the Lagos APC chairman, Tunde Balogun.
4:00 PM: Voting has now been concluded and collation is been done across the various centers.
While unofficial results keep pouring in, actual results are expected to be announced at the headquarters of the party in Lagos once the process is concluded.
2:00 PM: As official results are still been expected, here are some results filtering in from some centers
Kosofe LGA: Wards C, D, E & F
Sanwo-Olu – 16,153
Ambode – 83
Ejigbo Ward F5
Sanwo-Olu – 14, 490
Ambode – 0
Ward D2 , Lagos Island.
Sanwoolu – 2280
Ambode – 0
Epe ward C
Ambode – 8773
Sanwo olu – 12
Ward C Somolu:
Sanwo-Olu – 6,743
Ambode – 0
Mosan G-North:
Sanwo-Olu – 9,700
Ambode – 7
Ward C2 Somolu
Sanwo-Olu – 16,470
Ambode – 2
Mosan G-South
Sanwo-Olu – 9,700
Ambode – 17
Alausa Ward C
Sanwo-Olu – 960
Ambode – 4
Ward E2 Egbe idimu
Sanwo-Olu – 10,000.
Ambode – 29
Ward C2, Alimosho Local Government
Sanwo-Olu – 16724
Ambode – 3
Mushin 1,Ward 2 Result
Sanwo-Olu – 4011
Ambode – 5
1:40 PM: Asiwaju Bola Tinubu has cast his vote
1:10 PM: Voting has concluded in most parts of the state and results are now been collated for official announcement. So far, Sanwo-Olu seems to have established an early lead.
12:40 PM: Elections are still on-going but results have started trickling in from some wards as well.
Babajide Sanwo-Olu defeated Akinwunmi Ambode, governor of the state, at ward c, Alausa, Ikeja. Olanrewaju Yahaya, the electoral officer in charge of the ward, announced that Sanwo-Olu got 960 votes while Ambode secured just four votes.
In Agbado/Oke-Odo local council development area, Sanwo-Olu got a massive 13,380 votes while Ambode had 115 votes.
12:15 PM: One of the aspirants, Babajide Sanwo-Olu and his wife have cast their votes.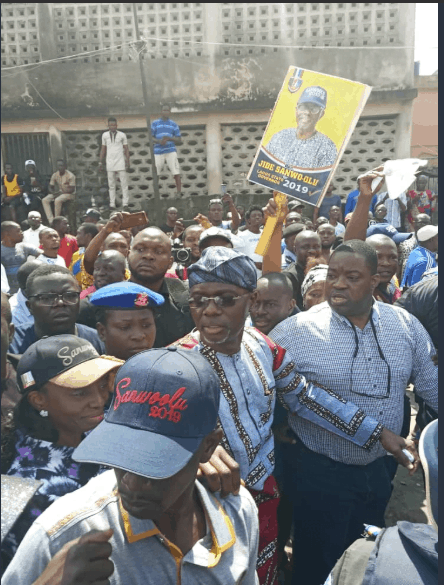 12:00 PM: Voting has now commenced across the various wards in the Lagos APC governorship primaries in which Ambode and Sanwo-Olu are going head to head.
11:00 AM: Information gathered reveals that only one queue is been used for the accreditation process but supporters of each of the two candidates would have to queue behind the poster of their preferred candidate for the actual voting.
Unfreaking believable. So they really don't like the dude…. in some quarter doe. #apc #lagosapc #lagosapcprimaries #LagosDecides https://t.co/OWBQusemLZ

— Arawore Ikutegbe (@aarawonder) October 2, 2018
10:35 AM: Actual voting will start by 12:00pm after delegates have been accredited.
10:25 AM: National Leader of the APC, Asiwaju Bola Tinubu will vote on Makinde street in Ward C in Ikeja.
10:15 AM: Voting is expected to take place in 245 wards across 20 local governments in the state.
10:00 AM: Accreditation has started in the various wards and delegates have been informed they can now vote with their APC membership card and slip.
8:45 AM: Babajide Olusola Sanwo-olu will be voting at St. Stephen's pry school, Adeniji Adele Rd, opposite Phase 2.
8:30 AM: It is confirmed that Ambode will be voting in Epe.
8:00 AM: It has been confirmed that Governor Akinwunmi Ambode has his party card. There were earlier reports that the Governor has refused to pick up his membership card.
---
Copyright Naija News 2019.
All rights reserved. You may only share Naija News content using our sharing buttons. Send all news and press releases to
newsroom@naijanews.com
.