Sanwo-Olu Responds To Ambode's Allegation On His Arrest For Spending Fake Dollars In USA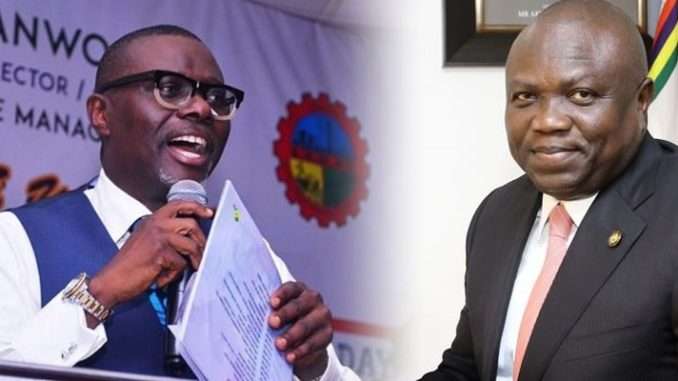 A major contender for the All Progressives Congress governorship ticket in Lagos State, Babajide Sanwo-Olu, has responded to claims made by the state Governor Akinwunmi Ambode, during his world press conference on Sunday.
I won't go into the gutter with you – @jideS responds to Governor @AkinwunmiAmbode

Read Response Here👇 pic.twitter.com/4ww8w3yaOj

— Káyọ̀dé Ògúndámisí 🇳🇬 (@ogundamisi) September 30, 2018
Naija News learnt that Sanwo-Olu, in a statement called for respect and insisted that "my pursuit of office will continue to be based upon issues that matter to Lagosians and not on attacks against someone's character, even when he attack mine.
Press Release from the Babajide Olusola Sanwoolu Campaign Organisation. pic.twitter.com/zwbHxtfZTi

— Babajide Sanwo-Olu (@jidesanwoolu) September 30, 2018
He also stated that he has forgiven Ambode ahead of the party's primary and "hopes he regains his balance and proper comportment no matter the outcome of tomorrow's contest".
The full statement read: "Let it be heard by all that I hold the people of Lagos state with great respect and affection. Their welfare is my utmost concern and it is what drives my pursuit for the governorship nomination of the APC. As such, I also hold the office of governor of our state in high esteem. I shall never consciously do anything that will undermine the dignity of the office nor will I engage in personal attacks against the holder of that officer. My pursuit of office will continue to be based upon issues that matter to Lagosians and not on attacks against someone's character, even when he attack mine. For anyone to engage in unwarranted character attacks against me, reveals more about that person's character than it says about mine.
Nicely said but I hope this man knows what is called scale of preference. Fashola built 11 new hospitals and no good road network to access them do you know how many people died on Thier way to the hospital because of traffic. @AkinwunmiAmbode has vision.

— Agent lex (@markejoh) September 30, 2018
"Thus, I felt sad for Lagos as I watched Press Conference by Governor Akinwunmi Ambode. Many things he said was beneath the dignity of our people and the exalted office he now holds. Perhaps the tension and anxiety of the moment got the better of him. If given a chance at cooler reflection of what he said, I am sure he would regret his descent into such low conduct. In this vein, I forgive him and hope he regains his balance and proper comportment no matter the outcome of tomorrow's contest. After all, we are both here to improve Lagos not to wrestle in its streets.
Do you know their is more traffic in Lagos now under Ambode?
Do you know the roads Ambode built are already in need of repairs?
Do you know Lagos is more dirty than pre Marwa days?
Do you know people drive anyhow now and bikes are back on expressways?

— Biola RICHARD (@BiolaRichard) September 30, 2018
"However, I must clear up some inaccuracies in the Governor's statement. His allegation of that I was arrested for spending fake dollars at a night club in the United States was untrue. In fact, the governor knows I travelled to the United States just last month. I would not have been allowed to travel or even get a visa if I had been involved in what the Governor falsely alleged.
https://twitter.com/seunonigbinde/status/1046494366003539968
"That the Governor claimed I underwent some unidentified type of "rehabilitation" at the Gbagada General Hospital was also shameless and untrue. Promulgation of salacious rumor should not be part of the job description of a governor. This is not the stuff of high office. People should question whether itis ethically right for the Governor to turn what should beconfidential medical information about a citizen into a weapon of political warfare? But for avoidance of doubt, let it be stated that I never received any treatment whatsoever at the Gbagada General Hospital. "Today, instead of making a convincing defense of his performance, Mr. Akinwunmi Ambode sought to sow fear into the hearts of Lagosians.
But Sanwo-Olu snapped campaign picture wearing fake Naija Jersey so i believe Ambode saying he was caught spending fake dollars.

— Bibi, Bolouere (@boluxxxx) September 30, 2018
"But Lagosians are an intelligent and brave people. They can see through the smoke and the fog. I am here not to tear my opponent down but to help build Lagos up. With me, you will hear about progress on education, health, sanitation, proper tax levels, economic development, infrastructure, jobs, public services and other things that enhance the lives of people. I am a serious person and this primary is a serious matter. I have not the time or inclination to attack character when there are so many real issues to address.
"We will continue to focus on the issues that matter in the lives of the people of Lagos. Lagosians want an answer to the sanitation crisis cast loss of jobs caused by Mr. Ambode's Visionscape misadventure. Our people will want to know why Mr. Akinwunmi Ambode has not been able to build a single General Hospital in the State when his immediate predecessor Mr. Babatunde Raji Fashola (SAN) built 11 General Hospitals. Lagosians are waiting to hear what our solutions are. They want to know why hundreds of competent civil servants got summarily dismissed and how this has undermined public services.
"As a candidate for the party's nomination and hopefully as your next governor, my approach will not be to sling insults but to propose solutions to the problems of the day."