I Am Neutral In APC Lagos Governorship Race – Osinbajo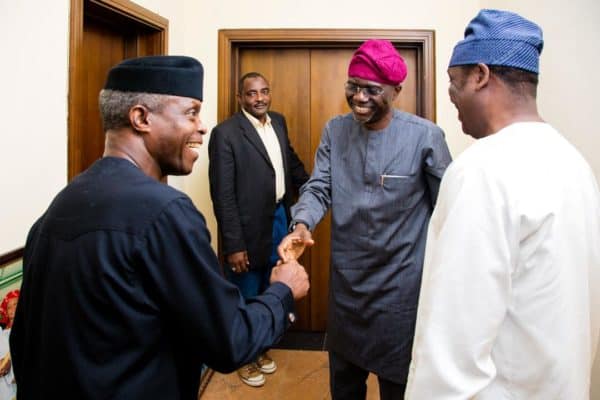 Vice President Yemi Osinbajo has refuted claims that he had endorsed Babajide Sanwo-Olu, ahead of Lagos All Progressives Congress (APC) governorship primary slated for Monday.
Osinbajo said that he is neutral as regards candidates for the primary election, contrary to the impressions created by some photographs that show the Vice President with Sanwo-Olu, Osinbajo.
He merely came to plead with the party leaders to allow a level playing field for the two contestants, including the incumbent Akinwunmi Ambode.
Osinbajo, according to a statement from the office of the Vice President, yesterday attended a meeting of the Lagos State General Advisory Council, GAC, where he had been invited by the elders on the council.
Before the meeting, the Vice President who had been in Lagos to participate in the Presidential primaries in the State had met with Governors Akin Ambode and the APC National Leader Asiwaju Ahmed Bola Tinubu.
At the GAC meeting, Prof Osinbajo, who is believed to be supportive of a second term bid for Ambode, conveyed the view of the Buhari presidency that there should be a level playing field in the overall conduct of the primaries.
Informed sources at the meeting said the purpose of VP's attendance at the GAC was to report on a previous meeting held between him and Gov Aregbesola on how to resolve some of the outstanding issues around Governor Ambode's second term bid and its fallouts.
"It was while he was coming out of the meeting that Mr. Sanwo-Olu and Mr. Hamzat took advantage of the VP'S presence to take the photos which are now being falsely paraded as proof of endorsement.
"The VP did not go to endorse the candidate, they only took advantage of his presence," a source at the meeting confirmed last night."