Biafra Group Threatens Presidential Aspirants On Campaign Promises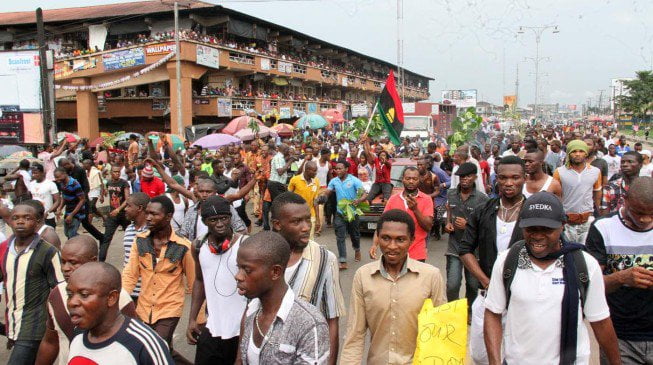 Biafra Nations Youth League, BNYL has vowed to chase Presidential Aspirants in Nigeria out of South East and South South come November campaign, the group said the two regions have heard enough of promises from past Nigeria Presidents and would no longer tolerate any further deceit.
National Leader of BNYL, Princewill Chimezie Richard made this known in terse statement sent to newsmen on Sunday, he said that the Politicians remember the South East and South South only during elections.
"We have heard enough of fake promises, since 1999 we started hearing of dredging Second Niger Bridge, uptill this moment President and other aspirants still use this for campaign in our region, it won't be tolerated this time.
Look at Calabar International Airport, only one International flight lands there, Enugu Airport was only renovated and called International Airport, uptill now non are talking of Calabar and Port Harcourt sea Port due to the fear that Igbos will repatriate their wealth home which will eventually lead to the collapse of Lagos economy.
Whoever is coming to deceive us should be very careful this time as what happened to Jonathan in Katsina and other Northern States during campaign for his reelection will be too small compared to what we will do them".
Contrary to the IPOB boycott call, BNYL said it is not against the people of the regions participating in elections "voting is a fundamental human rights, we can not deny people that right by threatening the election, We will stop participating in Census and voting in Nigeria once we are a free State recognized by UN and other Countries.
" Our people must use every means possible to unseat the Governors, Senators, House of rep members, Local Government Chairmen who are hindrance to our cause.
It is not advisable folding our hands to watch them impose Fulani loyalists on us "
Download Naija News App. Advertise with us. Send us enquiries and press releases.