Osun Election: Oshiomhole Reveals APC's Agreement With Omisore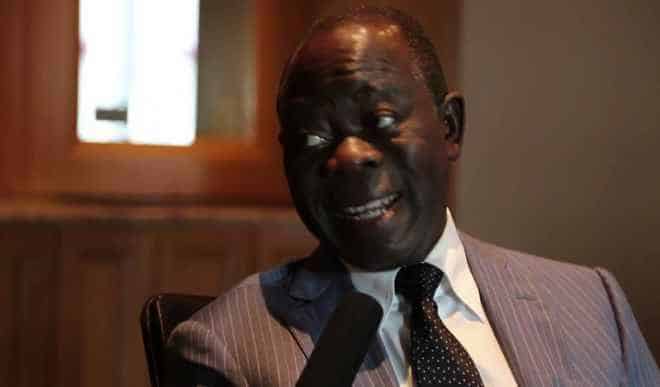 Adams Oshiomhole, the National Chairman of the All Progressives Congress, has revealed the agreement of his party with Senator Iyiola Omisore, the governorship candidate of the Social Democratic Party in the Osun State governorship election.
Oshiomhole, while explaining at a press conference in Abuja on Friday, stated that there would not be automatic ticket for Omisore.
Responding to a question on whether the APC promised Omisore an automatic ticket to contest a senatorial seat, He said, "I don't like those words 'automatic tickets.' I was careful even after the meeting we had with our lawmakers not to use those words.
"We will provide a level playing field for all to contest, if I didn't promise our members automatic tickets, how can I promise a person I do not yet know?"
He further stated that the Peoples Democratic Party had forgotten that Omisore had served as a deputy governor to Bisi Akande, the the pioneer interim national chairman of the APC before the PDP government "rigged them out of office.
Oshiomhole stated that the working relationship between the Social Democratic Party governorship candidate in Osun state and APC in support of Oyetola proved decisive.
Oshiomhole said, "I said we had a negotiation and had a deal that has to do with the governance of Osun State. I didn't go with money and I don't have money to give to anybody. He didn't ask and there was no basis for him to ask.
"We agreed that he would have an opportunity for him to contest for a seat on the APC platform. Not just for Senate or House of Representatives, but also for house of assembly. That is why I said we spoke about the immediate, which is the Osun election and going forward."
He said the APC having recognised the fact that the SDP was critical to the rerun, decided to a open negotiation with its leadership.
Oshiomhole stated, "He (Omisore) told us that, yes he has lost, but he believes that he can still win if we have a deal that seeks to address the primary purpose of his participation in the process which is the governance of the state and specific policy issues that were of concern to him.
"We had a robust conversation and reached an agreement which I think is healthy. We didn't have to negotiate about compensation or about paying money to anyone. The issue was about governance, education and how we can have a working relationship ahead of the general election and in future elections.
"We were able to strike a deal that has to do with the specific issues that affect the welfare and the well being of the people of Osun State. Whereas Saraki failed to strike a deal with the SDP, we secured a deal with them and now the APC, working with the SDP had a huge influence in those areas and combining our efforts, it was not strange that at the end, we won.
Source: Naija News