Breaking News: APC Wins Osun Governorship Election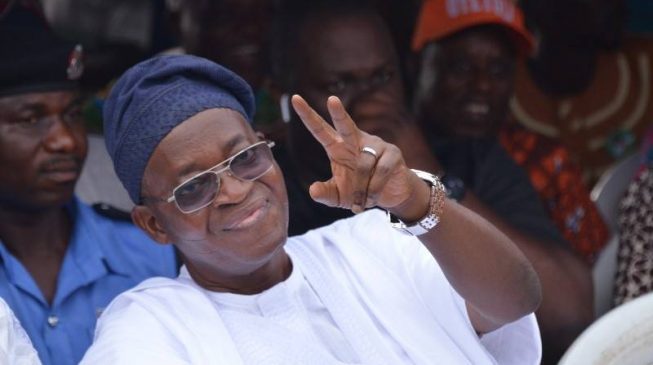 The Independent National Electoral Commission (INEC) has announced the winner of the 2018 governorship election in Osun State.
Isiaka Oyetola candidate the flag-bearer of the All Progressives Congress (APC) defeated People's Democratic Party (PDP) candidate, Ademola Adeleke in the rerun in Ife South Local Government Area of the state.
The APC candidate, Isiaka gathered a total of 255,505 votes while his runner-up from the PDP scored 255,023 votes.
The election Returning Officer and Vice-Chancellor of the Federal University of Technology, Akure, Prof Joseph Fuwape, declare Isiaka Adeleke as winner of the election and Osun State governor elect.
Adegboyega Oyetola Isiaka was declared the winner after he won the election by a margin of 482 votes.
See Final Results Of Osun Governorship Re-run.
Oshogbo ward 5, unit 17: Registered voters: 884
Accredited voters: 473
APC: 299
PDP: 165
Valid votes: 467
Votes cast: 473
Orolu LGA
Accredited voters: 419
APC: 280
PDP: 122
Valid votes: 411
Rejected votes: 8
Ife South Polling units 10 and 12
Registered voters: 1314
Accredited voters: 515
APC 455
PDP 36
Total votes cast: 515
Rejected: 13
Ife North
Registered voters: 353
Accredited voters: 133
APC: 126
PDP: 2
Total votes cast: 133
Rejected votes: 4
Source: Naija News