Jamie Carragher Calls Out Pogba Over Clash With Jose Mourinho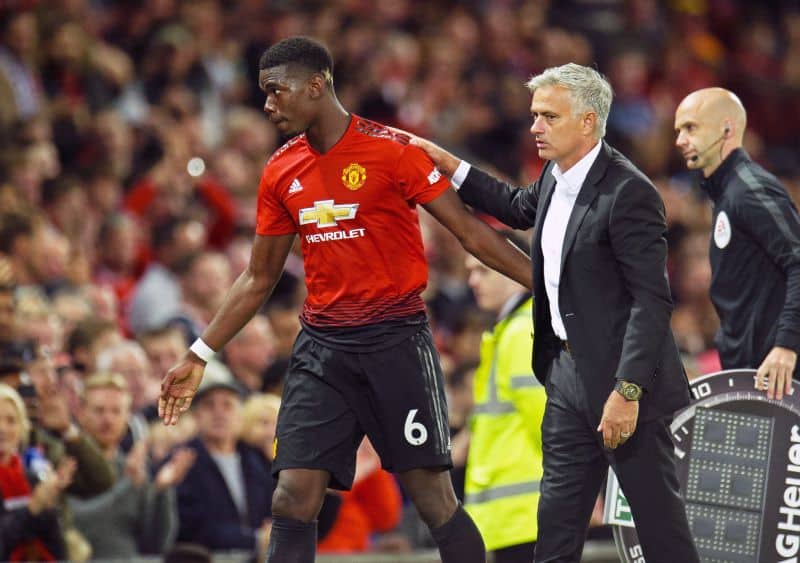 Former Liverpool player, Jamie Carragher, has called out Manchester United midfielder, Paul Pogba, on his latest misunderstanding with his club's coach, Jose Mourinho.
Pogba and Mourinho, had been reported to have clashed during training at Carrington on Wednesday, allegedly over a post he (Pogba) had made on Instagram in which he was seen laughing and joking minutes after his side crashed out of the Carabao Cup on Tuesday night.
Carragher claimed that Pogab is a problem for the Red Devils and he is not really a captain. According to him Pogba should be the one to leave the Old Trafford club, and not Mourinho.
"There's a power play going on here," said Carragher on Sky Sports. "But if you're asking me because it looks like it's Mourinho or Pogba who do I see in the right between these two: Jose Mourinho.
"They've both been there exactly the same amount of time, two years, I think Jose Mourinho has done more than Pogba in that time.
"Now another question is should Mourinho be getting more out of a £90m player? Or other players? But in terms of this, I don't know if Pogba is worth the hassle for what he gives on the pitch.
"There's an idea that it's one or the other, so if Mourinho goes we'll see a new Pogba. We won't. I can assure Manchester United fans you won't. No-one plays for two years and then all of a sudden you change your manager and you're a different player.
"We're seeing [right now] what Paul Pogba is as a player. He's not as good as he thinks he is. He's not. He's got talent, but his big problem is his understanding of the game. It's been a problem since he came, and it's still a problem now.
"You can sum Pogba's Man United career up in his last two games really. He scored a great goal against Young Boys in the Champions League, showed his quality.
"But then just gets robbed of the ball on the halfway line, falls over, doesn't break his neck to get back against Wolves, and they get an equalising goal. And that sums him up.
"There's talk of him moving on and leaving Manchester United. There's other clubs in the world who haven't got Paul Pogba but have been very successful, Barcelona being one. Real Madrid have won three Champions Leagues.
"I do think there's talent there, but talk of Barcelona: I can't think of a more ill-fitting player to Barcelona. Barca are all about discipline, staying in your position, playing for the team. That is totally against everything that Pogba plays for. Pogba plays for himself, does his own thing.
"People saying Mourinho is causing problems, taking the captaincy off him, but he's not really a captain is he, Pogba, in terms of how he plays, he's letting his agent speak negatively about the club. How can that happen if he's the man for Man United? Fighting for the club, fighting for his manager."