Iretiola Doyle Commends Davido For His Passion In Politics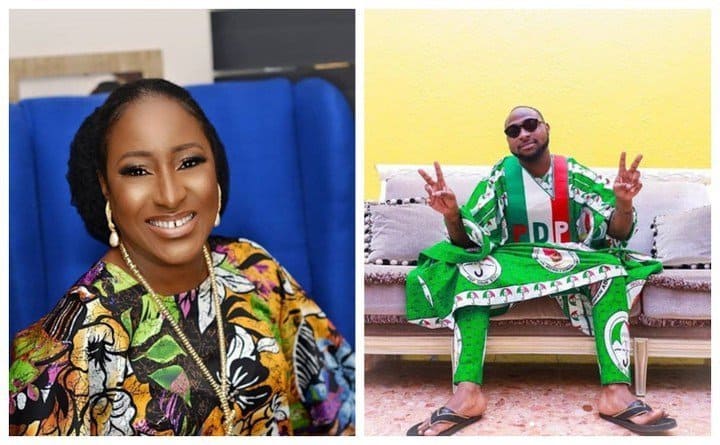 Nollywood actress, Iretiola Doyle, has reacted to the active involvement of Davido in the politics of Osun state in the past few weeks.
Davido, whose uncle, Senator Ademola Adeleke is running on the platform of the Peoples Democratic Party, in the Osun state governorship election, has been strongly involved in the mobilization of votes for his uncle.
Doyle, however stated that if Nigerians had demonstrated a similar passion and fervour in politics as Davido, the country wouldn't have fall into the political and socio-economic crisis it has found itself in present times.
She called on Nigerians to get their PVC and support the candidate of their choice in the forth coming 2019 general election.
Sharing a photo of Davido on Instagram, the actress wrote on her Instagram handle:
"Who he's campaigning for and why is immaterial and beside the point. The way I see it, if a quarter of us got involved and pursued our political preferences with as much passion, single-mindedness, loyalty, doggedness and "we die here" fervour that @davidoofficial has displayed and sustained over the last several days, it's safe to say that the last 2 decades probably wouldn't have gone down the way they have and we probably wouldn't be in the current socio-political situation we are in.
"It doesn't matter how cerebral or articulate you are; backseat driving and armchair political analysis don't change a thing. Everyone is analysing what A, B, C and D are doing, the real question is what are you doing? How are you getting involved? What is your political preference and how are you ensuring that you are effectively represented?
"Alas, classic Nigerianese, you no go do, person wey gree do will be damned for doing… Na so! Davido has found his "why". I am PVC ready currently on the lookout for my "why". A candidate whose politics I agree with, who I feel I can trust."
See post below:
https://www.instagram.com/p/BoI8n-rhiUb/?hl=en&taken-by=iretidoyle
Source: Naija News