Biafra: IPOB Slams Ohanaeze Over betrayal Of Trust, Sabotage Of Igbo Interest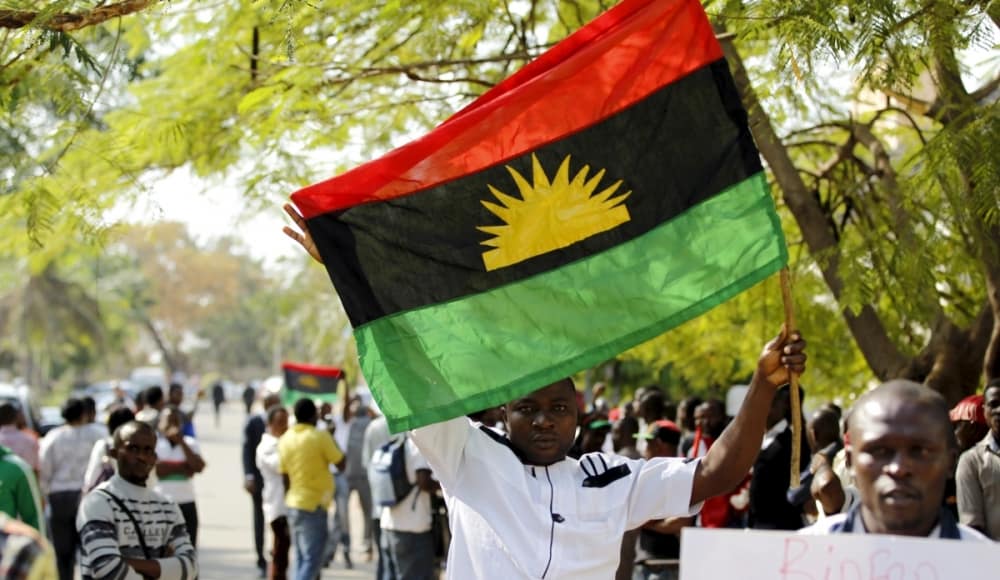 The Indigenous People of Biafra (IPOB) has berated the pan-Igbo Socio-cultural organisation, Ohanaeze Ndigbo, of betrayal and sabotage of Igbo interest.
RT @NkirukaNistoran: How Ohanaeze Facilitated The Destruction Of Igboland And Why They Were Proscribed By IPOB Ohaneze Ndigbo has left a destructive trail of blood, betrayal and sabotage of wider Igbo interest, to the extent that nobody in Nigeria has re… https://t.co/MT8WF3vqF8

— Emeka Chuks (@Omambala_Chuks) September 25, 2018
Naija news learnt The group said that Ohanaeze has not achieved any tangible thing that has benefited the entire Igbo land rather it allegedly connived with the perceived enemies of the Ndigbo to proscribed and tagged IPOB a terror group while the Fulani herdsmen go about killing innocent citizens.
Proscription of south east governors and Ohanaeze by IPOB is welcome development pic.twitter.com/4NWo1RY6yQ

— Abia Writers 4 (@4_abia) September 25, 2018
A statement by the Media and Publicity Secretary of IPOB, Emma Powerful, said alleged that Ohanaeze leadership were working for their pockets and not necessarily for the interest of the people.
Powerful said, "Ohanaeze Ndigbo has left a destructive trail of blood, betrayal and sabotage of wider Igbo interest, to the extent that nobody in Nigeria has regard for the honour and dignity of a once proud race. Only those born with a deep sense of betrayal, Lagos-Abuja domiciled traitors and fellow collaborators will have respect for Ohaneze as presently constituted".
BIAFRA: Many sins of Ohaneze Ndi-Igbo and why they must remain proscribed – IPOB https://t.co/prWYuR2Zfd pic.twitter.com/LnTRNbkWRU

— Emeka Gift (@Emekannaoma) September 25, 2018
"To date we are yet to come across one person who can confidently point to one tangible achievement of Ohanaeze Ndigbo that benefited the entire people. The truth is, there is none. They work for their pockets and well-being of their children and relatives and nothing more".
Nigeria as a country are in big trouble, #IPOB are very well informed about the worst coming soon to Nigeria & Biafrans have decided to leave the country &go back to our #Biafraland to build a System that works, where we can be safe, #SupportBiafraReferendum #StopBiafraKillings pic.twitter.com/KyWI4vNwmW

— andybest (@andybes50484929) September 25, 2018
"That IPOB was perversely tagged a terrorist group in the eyes of the laws of Nigeria, when Fulani terrorist herdsmen are free to roam and kill at will, is the exclusive making of Ohaneze Ndigbo and South East governors. Ohaneze Ndigbo and South East governors consider IPOB a threat to their livelihood and was determined to accept countless cold blooded executions of innocent IPOB members in order to prove to their Fulani masters they are good Nigerians".
"For those in doubt as to the true motive behind the formation of Ohanaeze Ndigbo by the caliphate must bear in mind that Ohaneze has fought and have continued to fight anybody with the interest of the masses of the east at heart. Ohaneze, in keeping with the template drawn up by the caliphate, once fought Dr. Azikiwe into irrelevance".
"They reduced him from Zik of Africa to mere Owelle of Onitsha, even when Zik realised the errors of his ways during the war and wanted to industrialise the east in the Second Republic. This same Ohaneze Ndigbo repeatedly conspired against Ojukwu and crowned his humiliation by denying him a seat on Abacha's constituent assembly," Powerful stated.
Life in Aba Abia State in #Biafraland, Not Lagos or Abuja, Nigeria is a failed State all we need is Republic of Biafra, please don't keep calm join #IPOB to achieve victory, #StopBiafrakillings #SupportBiafraReferendum pic.twitter.com/xGiGeQFnzx

— andybest (@andybes50484929) September 24, 2018
Efforts to get to the Public Relations of Ohanaze Ndigbo Mr. John Okuku to speak on the allegations proved abortive as he said that he won't speak until he gets approval from the President General. But when he was contacted again after some hours he did not pick the phone calls put across to him.
#IPOB is Gaining Peoples' Confidence than Political Leaders.————–Elliot Uko. pic.twitter.com/qNHsNWhqAz

— Emeka Gift (@EmekaGift) September 25, 2018
Source: Naija News