Osun State 2018 Governorship Election Result [Live Updates]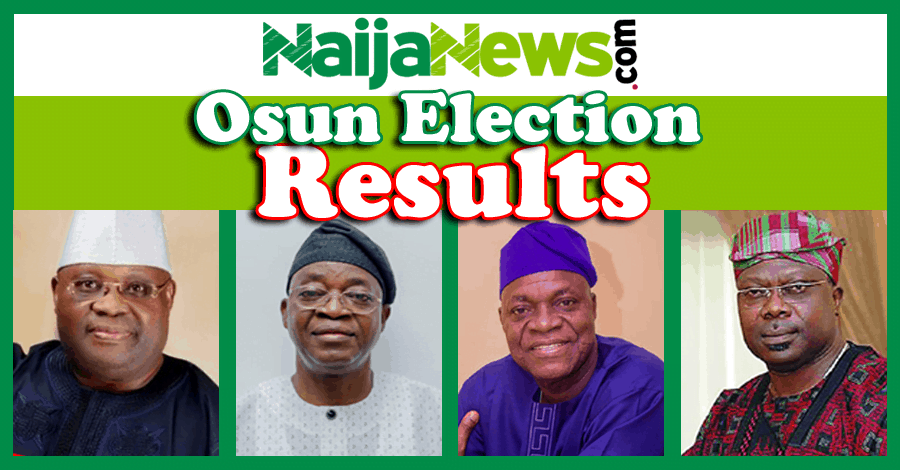 The Osun State Governorship election voting process is over, ballots are counted and results are getting collated gradually.
The unofficial results of the Osun state 2018 governorship election are about coming in from the polling units across the state.
Naija News understands that these are not the official results, INEC will announce the full details of the results very soon.
Stay tuned and keep refreshing this page for the latest updates on the governorship election results as released by INEC.
_______________________________________
9.56pm: Ejigbo local government
Ward 10 unit 003
APC – 187
PDP – 98
SDP – 54
_______________________________________
8.10pm: Ilesa East
Ward 10 unit 9A
APC – 34
PDP – 65
SDP – 23
_______________________________________
8.00pm: Ilesa East
Ward 10 unit 2A and B
APC – 193
PDP – 137
SDP – 49
___________________
7:20pm: Ifon Orolu local government
Olufon Orolu D (Ward 4), RCM Primary School Area (Polling Unit 2)
ADC – 1
ADP – 6
APC – 116
PDP – 152
SDP – 90
___________________
6.12pm: Elerin
Ward 9, unit 2
APC 42
PDP 21
SDP 19
6.12pm: Elerin
Ward 9, unit 2
APC 42
PDP 21
SDP 19
___________________
6.01pm: Elerin
Ward 9 Unit 10
APC 33
PDP 21
SDP 23
___________________
5.55pm: Ede North
Ward 10 unit 3
APC: 42
PDP: 122
SDP: 3
___________________
5.48pm: Ede South local government
Alajue 11(Aisu junction) Ward 5, Unit 001
ADC 2
ADP 2
APC 34
PDP 212
SDP 10
___________________
5.40pm: Ife North local government
Ward 006, PU 001, Ipetumodu Town Hall, Ipetumodu
ADC – 3
ADP – 2
APC – 94
PDP – 54
SDP – 90
___________________
5.15pm: Ilesa (Osun College of Education)
Unit 2
APC -46
PDP 43
SDP -21
___________________
5.10pm: Ilesa West
Unit 4 Ward 2
APC 107
PDP 90
___________________
4.55pm: Ila local government area
Polling Unit 12, Ward 4, Ita Aewogbade
APC- 49
PDP- 78
SDP- 19
___________________
4.40pm: Ife North local government
Ward 01, Unit 004
APC – 138
SDP 93. PDP. 85. ADC 02. ADP 08
___________________
4.27pm: Boripe local government
PU003, Ward 10 NUD primary school, Iree
ADP – 4
APC – 25
PDP – 47
SDP – 343
___________________
4.21pm: Iwo
Ward 4 unit 3
ADP – 166
ADC – 1
APC – 102
PDP – 102
SDP – 17
___________________
4.17pm: Ayedire local government
Pu 006 ileogbo ward 4
ADC – 3
ADP. – 25
APC – 85
PDP – 118
SDP – 65
___________________
4.12pm: Ila local government
Ward 03 unit 05
ADP – 2
APC – 114
PDP – 99
___________________
4.05pm: Ifedayo, Ife South
Aare ward 4 PU 3
APC – 59
PDP – 51
SDP – 70
___________________
4.00pm: Iragbiji
LA pry school ward 1 unit 2C
ADC – 0
ADP – 9
APC – 123
PDP – 43
SDP – 2
___________________
3.52pm: Ede North
Unit 2 Ward 9
ADP: 5
APC – 29
PDP – 113
SDP – 7
___________________
3.47pm: Ejigbo local government
Ward 2 pooling unit 4
ADC-4
ADP-6
APC- 122
PDP- 85
SDP- 28
___________________
3.43pm: Ila-Orangun local government
At PU 005, Ward 3
ADP – 2
APC – 114
PDP – 99
SDP – 29
___________________
3.40pm: Osogbo ward 13 unit 7
APC – 100
PDP – 90
SDP – 32
___________________
3.38pm: Odo Otin local government
Polling Unit 8, Ward 1
PDP – 75
APC – 41
SDP – 14
AD -1
GPN -1
ADC -33
___________________
3.35pm: Ikirun Ifelodun local government
Ward 7 Unit 5 (Saviours African Church)
ADP – 26
APC – 62
PDP – 123
SDP……. 11
___________________
3.31pm: Osogbo local government
Ward 6 Unit 1
ADC – 2
ADP – 0
APC – 115
PDP – 26
SDP – 14
___________________
3.27pm: Iragbiji
LA School Unit 2B
ADC – 1
ADP – 1
APC – 100
PDP – 46
SDP – 1
___________________
3.24pm: Ife Central
PU 007, ward 001
ADP – 6
APC – 52
PDP – 27
SDP – 125
___________________
3.22pm: Ife North
Ipetumodu 1 Ward 6 Court Hall 2
ADC – 1
ADP – 3
APC – 48
PDP – 64
SDP – 68