Makarfi Slams Wike On Planting Of Moles In PDP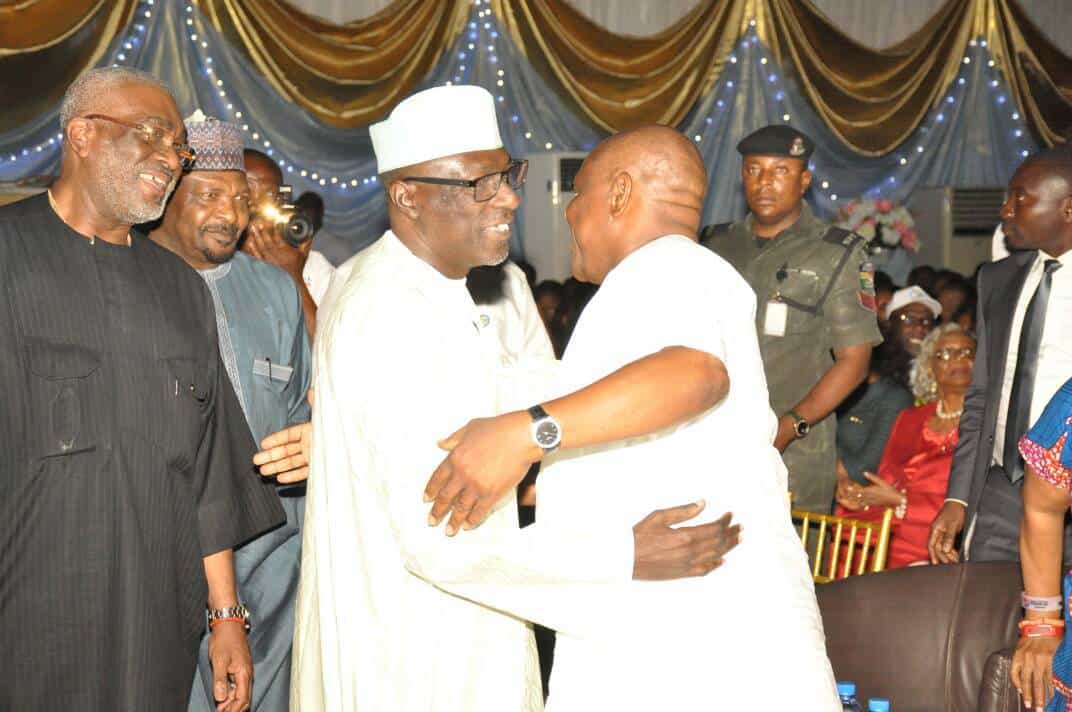 former Governor of Kaduna State, Senator Ahmed Makarfi, yesterday reacted to the claim by Rivers State Governor, Nyesom Wike, that the ruling All Progressives Congress, APC, has planted some presidential aspirants within the Peoples Democratic Party, PDP.
"PDP also planted moles in opposition parties in 2015…."

Makarfi replies Wike

— Ayekooto (@DeeOneAyekooto) September 22, 2018
Naija News Understands that  Makarfi, one of the presidential aspirants on the PDP platform while speaking with journalists in Abuja, said he doubted if any of the presidential candidates were on such mission, but admitted that infiltration of opposition camps was normal in politics.
Planting Moles In Rival Political Parties Normal, Makarfi Replies Wike https://t.co/jfUv3BsWE2 pic.twitter.com/bK93L8ZmNj

— Ogbolu O. George 231 (@gdonogbolu) September 22, 2018
Wike had on more than one occasion cried out that the APC had planted some of the aspirants jostling for the sole presidential ticket of the main opposition party.
"In politics, even when PDP was in power, I know that PDP tried to infiltrate other political parties," he said."So, don't expect that the party in power now will not try to infiltrate the opposition parties. That is a normal thing in politics.
"If you are in the opposition, you try to infiltrate the party in power to at least have first-hand information on what is going on, the same way the government will try to infiltrate the opposition to know what the opposition is planning.
"A mole may be one that is given a specific task to sabotage. I can't say for sure that there is any aspirant that has been given a task to sabotage."But, espionage even among governments takes place, not to talk of among other political parties or groups.
ALLEGED MOLES IN PDP: MAKARFI REPLIES WIKE: YOU 'ARE NOT IMMUNE FROM CALAMITY.

— Ehix (@Ehix07) September 22, 2018
"They are things we should expect actually, that is why everybody has to be doubly careful about the way they go about doing their politics; you don't leave your flanks wide open.
"How did APC come to power in 2015? Openly, key members of PDP left and joined them. But that was not the fatal blow.
"The fatal blow was from those who actually remained in PDP but worked for APC. So, don't rule out that people can also remain in APC, not because they like it, but because they may wish to work for us.
"I don't rule out that. It happened in 2015 against the PDP, and it can happen in 2019 against the APC. So, I don't want us to overplay this, because we may even be throwing away issue which can end up benefiting the party one way or the other. It all depends on how you look at it.
"PDP votes alone cannot make us win the election, we need votes of everybody irrespective of political parties, including APC, and how we get the votes may not necessarily have to be a conventional way of politicking.
"I don't want to go further than that, but winning the election is not a clearly defined line, it is a way of politicking.
"If you really want to win the election, especially to take away power from an incumbent in an African country, you need much more than conventional politics to achieve that. "If you just stick to the conventional politics, you may never succeed in actually taking away that power."So, we should not be worried about that. We should be concerned more about what is going to keep us together."
@NGRPresident
Makarfi Replies Wike On Planting Of Moles: @OfficialPDPNig Also Planted Moles In Opposition – https://t.co/mwa8ugnbim pic.twitter.com/84HpgXK8tE

— 247 Nigeria (@247nigeria) September 22, 2018
Source: Naija News