Prof. Jerry Gana Speaks On His 2019 Presidential Ambition, Says He Wants To Represent Youths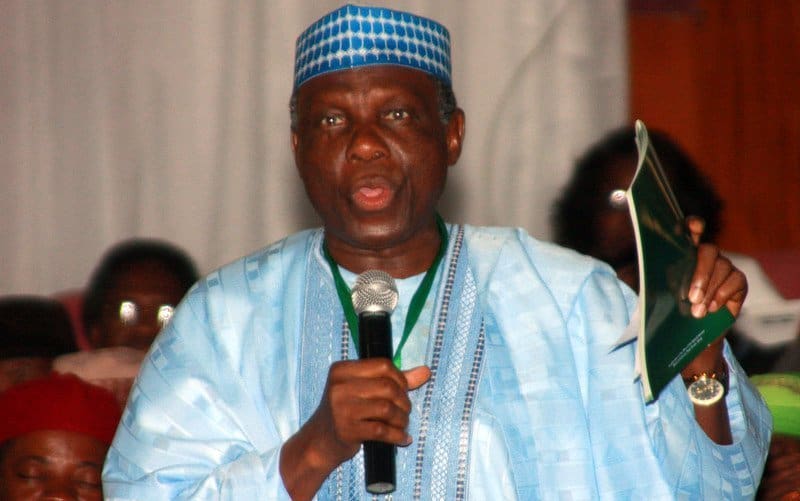 Jerry Gana Joins 2019 Presidential Race
Former information minister, Professor Jerry Gana, has said the youths mandated him to be in the race for 2019 presidential elections.
A former Minister of Information, Professor Jerry Gana, has joined the race against President @MBuhari in 2019 presidential elections.

"Any government that cannot secure the lives of Nigerians is not worthy of being called a government," Gana declares.

?https://t.co/ibdXkDq2lw pic.twitter.com/RLa1ZWvVBf

— Ripples Nigeria (@RipplesNG) July 13, 2018
Naija News understands that 73 year old Professor Gana, made this known while answering questions from journalists in Minna, Niger State yesterday.
Professor Gana who is contesting for the Presidency under the platform of Social Democratic Party, SDP said the youth of the country had given him their mandate and had been supporting him too.
"I am a surrogate of the youths, the youths asked me to aspire and they have pledged to support me and they have started supporting me."
Retweeted Mallam Ibro Audi (@batabosso):

Professor Jerry Gana claiming INTEgrity……… Want to use it to contest for President. pic.twitter.com/cpI2qDCHWB https://t.co/RX2GLFNKqx

— Damilare Joshua (@Dammyjoshua) July 13, 2018
He said for now, the country needed the combination of elders and youths in governance for survival and progress of the country.
"You cannot read experience in the books but you can acquire it from the elders and this is why we need to blend the youths and the elderly ones to move the country forward because this will amount to a wise combination," he remarked.
He called on the Independent National Electoral Commission, INEC, to really live true to its name by being independent and transparent in the conduct of the 2019 general elections.