Abia Stakeholders Supports APGA's Decision To Zone Presidential Ticket To North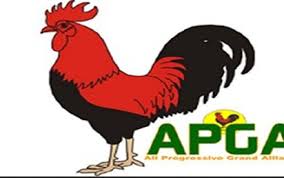 Abia State, All Progressives Grand Alliance Leaders and stakeholders, on Thursday reacted to the decision by the National Leadership of the party to produce a presidential candidate in the 2019 general elections.
The party in its discussion in Awka, Anambra state, had decided to zone the presidential ticket to the morth while the vice presidential candidate will be selected from the South-east.
An APGA chieftain in Abia and House of Representatives' aspirant for Ikwuano/Umuahia constituency, Macdonald Ubah, in an interview with Daily post, said, "that decision was taken at the NEC meeting, and it is in line with what other political parties seems to be doing.
"So, they should be in sync with other parties in order to live up to what the agreement was, about rotational presidency.
"So, It is a welcome decision".
Hon. Chijioke Nwachukwu, the member representing Umuahia south constituency in Abia House of Assembly, while reacting, welcomed the decision of the party leadership.
He stressed that it would deepen the nation's democratic process and urged the national leadership of APGA to field credible and acceptable candidate to ensure the success of party in the upcoming elections.
Ikechukwu Emetu, aspirant for the Ohafia south constituency of Abia House of Assembly under APGA, stated that the decision of the party to produce a presidential candidate in the 2019 election will strengthen the party's internal democracy.
He said, "the decision is also healthy for our democracy. APGA should always stand as a party, not trying as much as possible to support other parties who are presenting presidential candidate.
"So, it is a welcome development. As we know, APGA happened to be the third populous political party in Africa. So, we have to show that example".
Ifeanyi Sunny Ajero, APGA leader in Umuahia north local government area of Abia, who also spoke on the decision said, "it is good, before we will be adopting a presidential candidate from another party".
"You know APGA is a national party. It has zoned the presidential ticket to the north, all we need to do, is to field a credible candidate that can win election, at least people will support us."