"Ourmumundondu" Group Visits Ooni, Speaks Against Vote Buying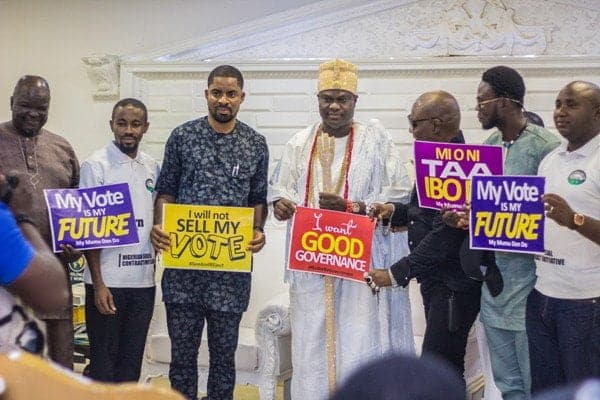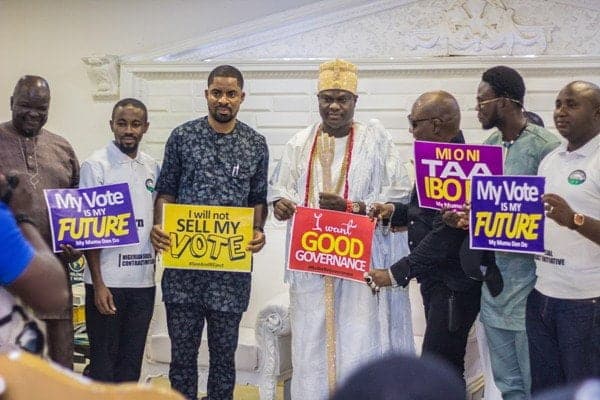 The Ooni of Ife, Adeyeye Enitan Ogunwusi, received  "Ourmumudondo" group, led by Maverick activist, Charlyboy, who were on a courtesy visit to the king as part of the group's voters education campaign to the state.
"Ourmumudondo" group, is a Civil Society Organisation (CSO) that advocates for a reawakening toward good and accountable political leadership at all levels.
Charlyboy told the Ooni that the group were in the state to advocate against vote buying and selling ahead of the September 22 governorship election in the state.
According to him, the visit is to brief the Ooni on the activities of the group, and to have him lend his voice against the trend of vote buying and selling.
"As a well respected father and traditional leader, we have come to ask for your support in our efforts toward campaigning against bad leadership, especially the menace of vote-buying.
"There is urgent need for a better society for the ordinary Nigerian who has been deprived of good leadership over the years.
"We want politicians who will give jobs to our youths, build roads, give light and other basic amenities.
"We are here to tell the electorate that as they go to the poll on Saturday, they should not sell their votes for any amount, and then suffer for the next 4years," Charlyboy told the Monarch.
In his response, the Ooni applauded that activities of the group, which include advocacy for good leadership and value reawakening, especially among the youths.
He therefore pledged his support for the group, especially in its voter's education initiative.
"Our people need to be told that vote buying and selling is bad for us and our society, therefore any individual and group that are leading such campaign should be supported.
"It is against our culture and values as a people, and our people should be educated on its dangers to a better society," he said.
Mr Rapheal Adebayo, the National Secretary of the 'Ourmumudondo' group, who is from the state, told NAN on the sidelines that the visit was timely and significant as the monarch represents morality, unity and true leadership.
"The Ooni is the chief custodian of our culture and values, and he is an opinion molder, therefore a courtesy visit to him, and having him speak against electoral ills is significant to us.
"We shall make further efforts as well to get other traditional and religious leaders stand and speak against vote-buying to their subjects, so that Nigerian can have credible and selfless political leaders," he said.
Source: Naija News