CAN Questions Buhari's Appointment Of DSS DG, Magachi, Acting Finance Minister, Zainab Ahmed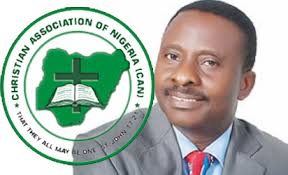 CAN Accuse Buhari Of Making Partial Appointments
The Christian Association of Nigeria (CAN) has questioned President Muhammadu Buhari on the rationale behind the recent appointments of Yusuf Bichi as DSS boss and Zainab Ahmed to replace resigned Finance Minister, Kemi Adeosun.
In a statement made available to Naija News yesterday, the President of CAN, Rev. Samson Ayokunle said the President, who at his inauguration three years ago, promised to be fair to all has been "consistently and persistently discriminating against Christians and southerners in all his appointments and policies".
The Statement read in part: "CAN notes with disappointments, shocks and surprises that despite our appeal to President Buhari to break the domination of the country' security council by people of the same religion and language in a multi-religious and multi-ethnic groups that make up Nigeria, he still derives pleasure in turning a deaf ear to the Voice of Wisdom and Reason as manifested in the three appointments," he said.
"He appointed Yusuf Magaji Bichi, a Muslim, from Kano state to replace Matthew Seiyefa, a Christian from Bayelsa who had been operating in an acting capacity since Lawal Daura was sacked in Buhari's absence.
"Mr Abbas Umar Masanawa was also named the Managing Director of the Nigerian Security Printing and Minting Company (NSPMC), just as Hajiya Zainab Ahmed was appointed the acting Finance Minister to replace Mrs Kemi Adeosun who resigned as a result of her failure to participate in the NYSC programme and for parading a forged NYSC Certificate of Exemption.
"We wish to place on record, once again, the dangerous and religious discrimination and partiality that have characterized the President Buhari-led administration. We believe the marginalization of the Christians is deliberate to heighten the tension in the land for whatever reasons."
CAN also accused some Christians in Buhari's government of defending the president for a selfish reason.
"CAN is also disappointed with the justification of the illegalities being perpetrated by Buhari in the lopsided appointments by the Presidency including a handful Christians in his government who are doing so primarily to keep their jobs, at the expense of the majority," he said.
"For anyone to be asking all well-meaning Nigerians, including some media houses, to stop complaining of the lopsided appointments in the security apparatus of the country is reprehensible, insensitive, and wicked."