Aspiring First Female Governor Of Osun Speaks On Plan To Take Over From Aregbesola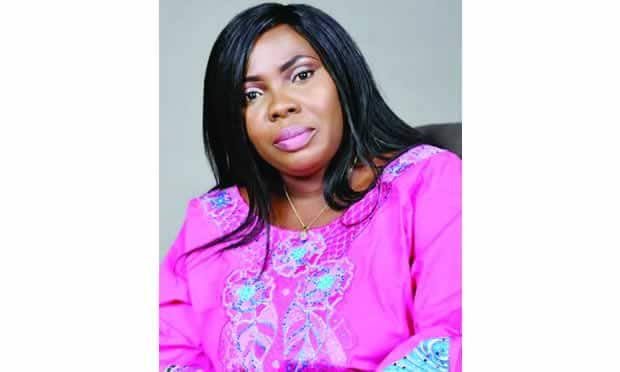 Osun Female Governorship RPN Candidate Reveals The Secret behind Her Ambition.
Mrs Mercy Ayodele, aspiring first female governor of Osun State is ready for the September 22 governorship election in the state.
Ayodele who emerged as the candidate of the Restoration Party of Nigeria (RPN) from her party primary said she has been into politics for over a decade and described it as very hectic and deep
In a close up interview with the nation, Ayodele made know the reason behind her dogged ambition.
What actually bought me to limelight is just because of the situation of the state and the country at large. We must accept that women are the most endangered specie in politics. So, I felt it's time we women stood up and stop being in the other room and come out . We have the potentials and we have what it takes.
Ayodele also added that women must leave the 'other room' of solely being at home, in the kitchen and offer much more.
In her words
"Most people believe that women are meant to be at home taking care of the home front, taking care of the kitchen and not coming out like this to face the big wigs who are mostly men. So they believe we are meant to be in the room or in the kitchen serving them . But nowadays, the current president of Germany is a woman, a mother . And I must tell you , a mother is always emotional. A good mother will always take care of the family. For example if she cooks and wants to dish out the food, the first food she will dish is for her husband, the children,even the visitors. Sometimes the mother at home will not even eat or may be left with just a little. She is always in charge of taking care of people. So, I felt it's time we came out and take good care of our people instead of deceiving them".
A woman is always like five-in-one; we are the home managers, we are always into career, we take care of the children, we take care of our husbands. If we can do that ,we can as well manage a nation. she said.
Ayodele who described politics as "very hectic and deep," said it should not be left to professional politicians alone.
When asked why she opted for governorship among other posts like councilor, House of Assembly member etc? Ayodele said "Well it's all about vision. If you have vision you are going to get there.
The Mother of three also noted that her husband was very supportive of her ambition, Like I always say, I'm giving it to my husband. When this race was about to start, he was the one that said "you can do it." By saying that he knew I have the potentials of doing it. He said you can do it and when I look back I will always say "thank you" to him for giving me the opportunity to be where I am today in the political terrain. He is very, very supportive. We are i nto it together. He is always there. she affirmed.
Ayodele further described her party as one that was women friendly and as such she did not join big parties like PDP, APC or the likes.
I always tell people that when you want to join any political party or any organization, you have to first of all check the ideology of the organization. I think the ideology of Restoration Party fits my own ideology. RPN is a female-friendly political party and also it's very very friendly to those who are physically challenged. It is a very good platform for us to vie for any position.
Apart from the administration fee, the nomination fee for every female aspirant to presidency level is free in RPN. And then it's a party for the youths .They use the wisdom of the elders and the strength of the youth. So that's why I decided to pitch my tent in Restoration Party. She  said.
The aspiring female governor, who said she won out of three aspirants in the party speaking on her preparedness for the September 22 elections said, We are taking over from Governor Aregbesola. He knows that he's going to hand over to me.
One, we have the strength of the youths. We have women and I must confess women are the one that vote most. So It's high time we stopped just voting. I have been voting for more than a decade . it's now time they vote for us, we can do it.
Ayodele also thanked the party chairman in the state  Dr. Tosin Adeyemi , whoshe described as "a very vibrant youth. He is the youngest party chairman in Osun State. I want to give it to him, he has been there and I must tell you politics is very very sweet and it must not be left to the politicians. It is high time we got involved.
The Finance expert, who hinted on her political journey so far, said she did not join any political party in particular "but I have my soft spot for some political parties. And I have been following the trends whenever they were having campaigns. I've always been partially involved. But I came in fully on board to RPN.
I didn't participate directly but indirectly. I just had flair for some parties. I will mention KOWA because KOWA is the first political party that gave us a female presidential candidate. So I have soft spot for KOWA. I was following the trend when the professor, Remi Solaya, emerged as its presidential candidate.
On her experience so far, Ayodele judged that politics was meant for women.
In her words, 'It's meant for women. It all depends on the individual and the readiness of women and the supportive aspect of the men, because I must tell you we cannot do it without men. We need their support and we just have to help our women to be in politics . It's just like having an aeroplane engine that is having 50\50 capacity and it's flying on the capacity of just 50 percent. In due time, the 50 percent will wear out and then the other one will just be there without being tapped. We have not actually tapped into getting our women to going into real politics. And its high time , that's why I have this respect for Goodluck Jonathan. During his tenure, we had more women given political appointment or in elective positions. But now, it's going gradually down. That is why I call them most endangered species in politics. We are the most endangered specie. People are scared of all these thugs and that's why I pitched my tent with RPN. It's not a political party of thugs, we all have our careers, we are professionals in our field and when it's politics time we come out and do the needful. It's not a do-or-die party. We have professionals in the party. It's a party to pitch tent with because they will give you your voice as a woman.
On the purpose of contesting in the Governorship, Ayodele listed:
First, I must confess, I'm in it because of women. If you look at the history of Osun State we have another woman now that's vying for the same position. I'm the first that actually aspired for this position and that is to tell my fellow women that we can do it.
Secondly, it is not that we should just sit down, we are intellectual people too. We have professional women there, like the former Finance Minister, Prof. Ngozi Okonjo- Iweala. She is one of the people I look up to in politics. I love her, I love her doggedness, I love the way she operated.
When asked how she balanced her duty as a wife , mother and politician, the mother of three said, Thank God I have understanding children. They know what I'm into and I'm always balancing it . When I'm at home, I make sure I do my home chores – cooking and taking care of them . So, they know when I'm not around, I'm not around. When I'm around I make sure I do my roles as a mother.
Source: Naija News