Vote Buying – Oshiomhole Insists Jonathan Should Be Prosecuted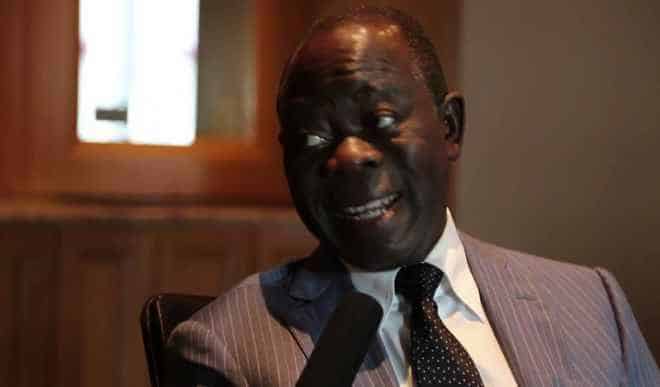 Oshiomole Insists Jonathan Started Vote Buying In Nigeria
Adams Oshiomhole, National Chairman of the All Progressives Congress, (APC) has insisted that former President Goodluck Jonathan started the vote-buying syndrome in Nigerian politics.
Oshiomhole called on the Independent National Electoral Commission, INEC, to prosecute him for electoral crime.
In a statement by his Chief Press Secretary, Mr, Simon Ebegbulem, Oshiomole wondered why the former president didn't address issues raised by the APC national chairman but resorted to criticizing him.
Oshiomhole opined that the former president should have owned up and apologize for his crime if he still had conscience left in him "A quick fact-check will disclose that Jonathan invented vote-buying as was witnessed in 2015, in Edo State as well as other states of the nation when he injected billions of naira desperately buying votes to ensure he got a futile second chance as President."
"Out of desperation, Jonathan injected over N5 billion through PDP leaders with a view to forcefully influencing Edo electorate into voting PDP. This was why the PDP was able to corner two senatorial seats in the state and got a majority of the House.
"If he had worked hard even for his constituents in the South-South as President, he would not have had any cause to voyage into vote-buying. What transpired served as a deadly behaviour modification for innocent voters and skewed their consciousness to the awareness they could now make money before voting for candidates.
"INEC as the electoral umpire should move to prosecute Jonathan for being a harbinger of vote-buying. At press time, Jonathan's cronies are either on the run or singing in different courtrooms on how they converted funds meant for purchase of arms and ammunition in the fight against insurgency to buy votes for the ex-president.
"Today, some of the ill-fated underhand strategies Jonathan deployed to win elections are no longer secrets. The humongous amounts the Dasuki cash, Diezani loot, et cetera, that the EFCC has uncovered in connection with funding the 2015 presidential election and buying votes are now well known.
"It is worth recalling here that in its 16 years in power, the Peoples Democratic Party, PDP, betrayed considerable hope. Instead of strengthening democracy and promoting good governance, the party was bedeviled by indiscipline and a compelling failure to exercise power to the benefit of Nigerians. The PDP had with a strange consistency violated the constitutional primacy of free and fair elections as the only way of choosing a leader.
"The administration of Jonathan did not deviate from the flawed vision or governance impunities of the PDP. Vote-buying is a sad product of PDP's uninspiring history. It has no place in the patriotic vision of APC. So how can ex-President Jonathan have the moral grounds to attack the national chairman of the ruling All Progressives Congress, APC, who is initiating transformational template of party governance for a popular party on a rescue mission."